National and international buyers are very satisfied with the contacts that have been established and closed during the eighth edition of FENAVIN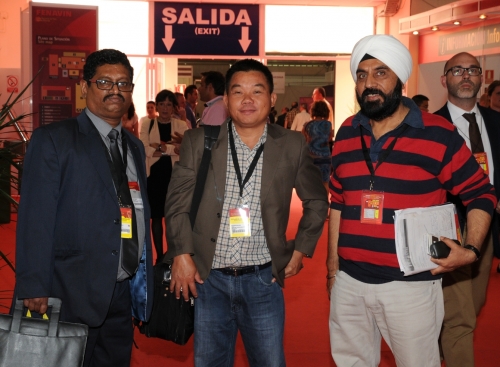 A total of 15,500 national buyers, 58.51% more than in the past edition -4,220 of them handled by the organization itself-, and 3,609 international buyers -816 of them also overseen by FENAVIN-, have been tirelessly working these three days
14.05.2015 |
A trade fair to discover, to be surprised, to get to know the client up close, to reach agreements… these were some of the statements used by most of the national and international buyers to define their work at FENAVIN during these last three days.
A total of 15,500 national buyers, 58.51% more than in the past edition -4,220 of them handled by the organization-, and 3,609 international buyers -816 of them also overseen by FENAVIN-, have been in search of their goals and have held meetings with the representatives of the 1,361 wineries that were present, meetings that have resulted in a highly favourable situation, as mentioned by some of them to the organization.
For example, Süha Balin, of the Turkish company "Vinotto", located in Istanbul, works with Spanish and Italian wines, and he had already visited the past edition of FENAVIN, during which he reached agreements that have been maintained over time. At this eighth edition of FENAVIN he had already closed an agreement on the very first day of the trade fair, resulting in his taking home three pallets of wine with him to Turkey to start and see how the wine works out over there. "If the consumer responds the way I expect, I will be taking even more over", he assures.
In his opinion FENAVIN "works so well that it should be held every year and not every two years" and, he also encouraged the Spanish entrepreneurs to open Spanish restaurants in Turkey "so that even more Spanish wine can be sold over there, as it is very much appreciated".
"Some German entrepreneurs have managed to make 20 contacts per day"
On his part, the Delegate of the German companies present at the trade fair, Mª José Moya-Angeler, mentioned "the great surprise shown by the entrepreneurs of this country in that pertaining to how modern the trade fair is and on its organization, as well as the variety of the offer of the smaller wineries". As he assured, some of them expected to make two or three contacts per day, "and they have ended up making up to 20 contacts every day". It is precisely José Serrano –of Spanish origin, although he has been living in Germany for twenty years- Representative of the most important organic wine company in Germany, "Riegel Bioweine", and with an operation of twelve million bottles of wine a year, who was very surprised "by the tremendous amount of organic wines that there are in Spain, by the quality and meticulous labelling, something that he has discovered at FENAVIN".
Yuri Shchebetov, Director of Marketing for the Belarus company OP NII PKD, which invoices 25 million Euros annually, has come to the trade fair "with very clear goals in mind, which he has found and that have been complied with and he hopes to immediately start working with them". And he also indicated how "surprised he is with the very different wines he encountered, which he has not been able to try at other trade fairs: I am really very happy with the finding, what a find", he categorically stated.
In as far as his opinion of FENAVIN is concerned, after visiting other trade fairs "such as the chaotic Verona trade fair", he considers that "this trade fair has nothing to envy other fairs".
Carlos Calderón, Brazilian buyer: "If you are looking for Spanish wine, FENAVIN is the place to find it"
Carlos Calderón, owner of the Brazilian company "Evinhos da Espanha", referent in Brazil on Spanish wines, visited the trade fair for the second time, mentioning that "there is so much wine that, in principle, it is rather hard to find it all, but we are going to start doing business with three wineries and we have put in a small order to start trying it out". Last year we already imported five containers of Spanish wine and contacted with several companies with which we are currently working. This year started out being quite complicated, "because the rise of the Euro has hindered things somewhat, although we do hope and expect to reach the same number of containers".
After visiting other trade fairs around the world, Calderón assures us that "FENAVIN is different from all the others: here there is total professionalism, absolute support for the buyers, as what we want to do is concentrate on finding wine: so, if you are looking for Spanish wine, FENAVIN is the place to find it".
Michael Jung, of the Taiwanese company E. Wheel Trading LTD, invoicing level of which last year exceeded half a million Euros, has come to FENAVIN in search of "wines for a small, yet quite mature market, such as the Taiwanese market, which is very knowledgeable of the quality of Spanish wines.
What he values the most of FENAVIN is the Wine Gallery, "which has allowed me to concentrate on the quality of the wine, on the bouquet, on the aroma, without interfering with the commercial part, with the vendors on the other side: something that I really appreciate and have never found in other trade fairs".
Jung has mentioned that he is "frankly impressed with the quality of Spanish wines and with the flavor of wines that were unknown to him, such as the Ribera del Júcar or some other Galician wines that will be very popular on a market that very much appreciates novelties".
Claudia Hurtado has come in from Peru, representing the company Tagonius Perú, and at FENAVIN she has been in search of wines for restaurants, hotels and important stores in her country, and her company invoices more than one million euros on an annual basis. She assures that at the trade fair she has found "wines with a very interesting balance between quality and price, something that is of utmost importance to the consumers of a market such as ours".
On his part, Marsharan Singh Munjral, of the company India Munjral Brothers Distribution, was absolutely overjoyed with the contacts he had established during his first visit to the trade fair. "I am really surprised to have discovered at FENAVIN that Spain is one of the main producer countries in the world, as well as by the tremendous quality of the wines I have been trying and by the prices they have". Finally, during the second day he has even been able to close an agreement in firm.
In his opinion, after visiting many trade fairs around the world, Hong Kong or Bordeaux, for example, I can undoubtedly say that "the level of FENAVIN is very high".
Michal Vincenc, Representative of Wines for the company CEPOS, one of the most important companies in the Czech Republic, which invoices more than 25 million Euros a year, was coming to FENAVIN with the intention of familiarizing himself with Spanish wines for a market in which wine finds a really high number of consumers amongst its population. "The expectations we had have been more than complied with and we have made very good contacts that, in the near future, we will be closing, as we are truly very interested".
Vincenc highlighted that "FENAVIN has been very well organized, with permanent contact with the organization during the weeks prior to the trip- and, on the other hand, the important number of exhibitors present at the trade fair, which is a highly positive element so that we can choose the wines that best adapt to our market".
National Buyers
In as far as the national buyers are concerned, the entrepreneurs that were interviewed consider that "FENAVIN is gaining ground on Alimentaria", as pointed out by Maribel Becerra of the Seville based company "Tierra Nuestra", or Pablo Ruiz Carrascosa, Director General of the Cuenca based company "Manchex Trade", for whom "this trade fair is for working, it is very practical and with an organization that has meticulously thought out each and every detail, something that does not happen at other trade fairs we have recently visited, such as the "Cumbre del Vino", at which the image was of far more importance than other goals and objectives".
Another buyer, Horacio Hidalgo, Director of the future ELeclerc in Puertollano, is looking for novelties at FENAVIN, and likewise looking to extend the geographical range of wines that he will have on his gondolas, which are now 70% Manchego wines.
In the opinion of Hidalgo, who has been to trade fairs in Extremadura, Aragón and other places in Spain, Fenavin is without a doubt the "number one" trade fair. As he assured, "at other trade fairs on gourmet products, wine gets lost among them all as just another mere product, but at FENAVIN it all focuses on the wine, giving it the importance that it has. The selection and amount of companies one finds here is truly surprising".
Other representatives of Manchex Trade, Cristina Ruiz Carrascosa and Agustín Fuentes, who export Spanish wines to the Australian market, were also very satisfied with the contacts they have made at the trade fair. "We have practically closed two agreements, with just a few details missing, and we have also discovered new wines that we think will be to the taste of the Australian consumer. Spanish wines have a very good image over there, in particular among the more exacting consumers: this is an opportunity that must really be taken advantage of".
Maribel Becerra, from Seville, is a regular visitor to FENAVIN. Her company has been working in Seville for 30 years and in Huelva for 15 years and the company works with a volume of millions of bottles a year from wineries from all over the geography. Her company, apart from being dedicated to distribution, also has stores, wine clubs and it exports to countries such as Portugal or Panama. Maribel Becerra makes sure that she never misses FENAVIN or Alimentaria, although she admits that in the last two editions FENAVIN is catching up with Alimentaria, which seems to be at standstill. "The prices in Barcelona, both hotels and stands, are much higher. If this continues like this I am going to be saving the money that I spend on trips to Barcelona", she concludes.