"We must find some sort of balance between what we produce and the wines we are actually capable of selling"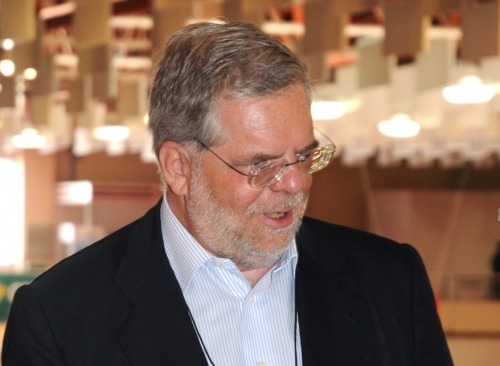 Rafael del Rey, Director General of the OEMV (Spanish Observatory of the Wine Market) also mentioned during his chat at FENAVIN on the main challenges that the national wine market faces: "The situation of the wine markets. Possibilities for Spain" that "55% of the wine we export stands at a price of less than 1 Euro per liter, a price that must be improved"
13.05.2015 |
The Director General of the Spanish Observatory of the Wine Market (OEMV), Rafael del Rey, talked about the "Situation of the wine markets. Possibilities for Spain" during the second day of FENAVIN, at the Trade Fair Grounds of Ciudad Real, during which he covered the main trends and the challenges that the national market must confront, the same according to the latest information that the foundation has, offering a series of strategies to be followed in order to improve its lines of evolution, making it quite clear that "we must find some sort of balance between what we produce and what we are actually capable of selling, and we must considerably improve the value of what we sell".
"We have to find some sort of balance between what we produce and what we are capable of selling", Rafael del Rey categorically said at the beginning of his intervention, to then continue with a review of the latest Spanish productions, confirming that "export volume is recuperating somewhat, although we are selling at cheaper prices and invoicing is dropping, which is something that should make us start thinking about how to improve these numbers".
Del Rey commented that there are three markets of consumers: wine that is consumed in the home, the wine that families buy to take home; the HoReCa channel (bars and restaurants) and a third part, which is unknown, as it may correspond to direct sales in stores; catering services, etc.
In the opinion of this observer, national consumption of wine in Spain is far worse than we would like, while international consumption has really grown, to the point that we export more than double what we consume in Spain. In Rey"s opinion, "selling more and earning less is not a good business", but that"s the way things are, we have sold 22% more in our country, with an average price that has dropped in 20%, "this is because we are exporting a lot of bulk wine, which is very dependent on price: when the price goes up we stop selling and when it goes down we sell a lot, which is exactly what happened last year", he explained.
"Our pyramid of prices still leaves a lot to be desired. Bulk wine and some bottled wine still stands at less than one Euro a liter, that is to say, less than what it costs to produce, which means that 55% of our sales were made at an average price of 0.37 €/L. Bottled wine with geographical indication (GI) or varietal, sparkling, aromatized, are slightly above one euro per liter. Sparkling wines stand at 2.43 Euros per liter. And "generoso" wines and bottled protected designation of origin wines above three euros per liter", Rafael del Rey announced, considering that this is something that has to change and "we must gain more added value for our products".
According to the figures that the Spanish Observatory of the Wine Market in Spain holds, almost everybody is exporting all sorts of things, because we are handling a portfolio of differentiated products as part of our strategy.
In as far as the main buyer countries are concerned, France stands out, followed by Germany, United Kingdom, Portugal and Italy, at an average price of 1.11 Euros per liter.
Spain is situated among the three most important exporting countries, standing at the top in the year 2013. Notwithstanding, he underlines that the goal is not to sell many liters of wine, but to sell wines that generate value, "which is where the key to the change and where the debate is, in how to manage to sell more bottled wine and more prestigious brands, associated to an improved image of our products". Two fundamental challenges taking into account that at a national level we are exporting twice what we are consuming within our own borders.
Rafael del Rey also reviewed the different markets, the trends and the evolution of the national market in its different channels.
FENAVIN, a magnificent trade fair
In answer to the questions posed by the media about FENAVIN, Rafael del Rey assured us that FENAVIN is a magnificent trade fair, because it is dedicated to doing business, "with a relatively low investment, any buyer who is here has a whole bunch of wineries and a huge variety at their disposal; and importers and buyers can count with good opportunities".
Del Rey also underscored that "many small wineries lose their fear of exporting, because they don"t have to travel very far, as they have the importers right here at their reach; and for the bigger wineries, they have all the importers together and all the national buyers".