Felix Solís Avantis has presented a real exclusive of novelties at FENAVIN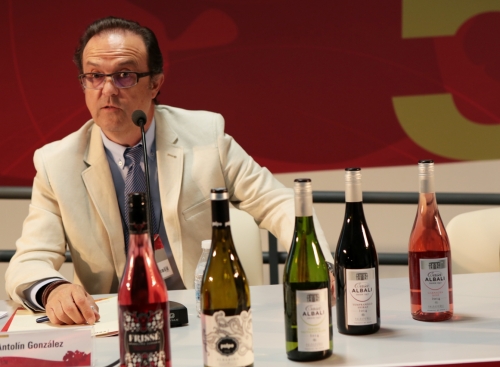 The Casa Albali line for the restaurateur channel, the refreshing Frissé beverage and the Albariño de Rías Baixas Pulpo are the new proposals made by Félix Solís Avantis
12.05.2015 |
Antolín González, Technical Director of Félix Solís Avantis and Félix Solís Ramos, International Commercial Director and Director of Marketing at Félix Solís Avantis have presented a real exclusive at FENAVIN with the new products that the company produces for the contemporary consumers and with the trends of the national and international markets in mind.
Félix Solís Ramos has taken us on a brief journey through this family company, which saw the light in the year 1952 and that is currently a wine referent at a global level, recalling that the company"s philosophy is to "produce wine that is good value for money", as well as to control absolute traceability of the product, from the vine to the final consumer". Our company wants to stay on the market through innovations in its already existing lines and with the elaboration of new proposals", Solís Ramos added.
On his part the Technical Director of Félix Solís Avantis has been in charge of detailing each one of the novelties. The first is Casa Albali, the line that has been specially designed for the restaurateur channel, in its white, rosé, young red, Gran Selección and Gran Reserva de Familia varieties. With the exception of the latter, which is a "more classic wine, with a limited production and a minimum of 36 months in barrel", the rest of them are "modern, very original and trendy wines, made for the general public, with regional varietals, and also international varietals". "These are wines that are easy to understand, as there is no need to be a great expert to taste and enjoy them", González assured us.
The group"s new Albariño, which has been called Pulpo, has " a direct connotation with Galicia and its gastronomy", explained Félix Solís Avantis" Technical Director. The company does not have a winery in Galicia, although as mentioned by its International Commercial Director, investment in that region is foreseen in the future. Currently, Pulpo is produced by a "famed winery" located in the Valle del Salnés.
Frissé is another of Félix Solís Avantis" new ventures. This is a sangria made with rosé wine, sparkling with bubbles, "which makes it very attractive". "Its style is sparkling, a very refreshing beverage that will encourage young people to delve into the world of wine because it has a low alcohol content, it is easy to drink, very fresh and lively", Antolín González pointed out.
Finally, Félix Solís Ramos announced a new and ambitious project of the company: sparkling wines. "The evolution of sparkling wines is turning out to be very interesting. This is a matter that the company had pending and hence the reason we are wagering on it. We believe that there may just be a great future for sparkling wines in Castilla-La Mancha", he assured.