Spain"s role in the current global wine market analyzed at FENAVIN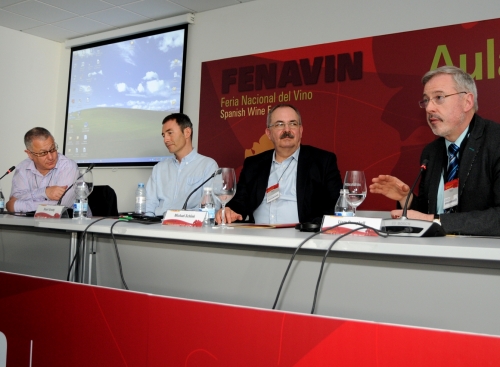 Robert Joseph along with Michel Schlink, Stuart Grundy and Liam Campbell intervene at a round table
12.05.2015 |
The British specialist and writer of wines Robert Joseph, Chief Editor of Wine Business International, has taken part along with Stuart Grundy, English Buyer for Bidendum PLB Group, Michael Schlink, German Buyer for Bartels-Langness GMBH and Liam Campbell, in the round table on "Spain"s role in the current global wine market", which has taken place this afternoon at the National Trade Fair on Wine that is being held in Ciudad Real from May 12th to the 14th.
Each one of the lecturers have put forward their point of view as professionals of the industry in regards to the positioning of Spanish wine within the scope of the competitive markets, highlighting that the concept of "Spanish wine" does indeed exist, although the problem resides in that on many markets the concept is associated to cheap wine.
Other aspects that have been underscored are the knowledge that exists of the different Spanish regions where wine is produced, with some working better than others, as could be the case of Rioja, Priorat and Albariño wines, likewise taking into account the tastes and preferences of each country.