"I am a big fan of FENAVIN, as it is a fine example of what is to be done in a region to attract buyers from around the world"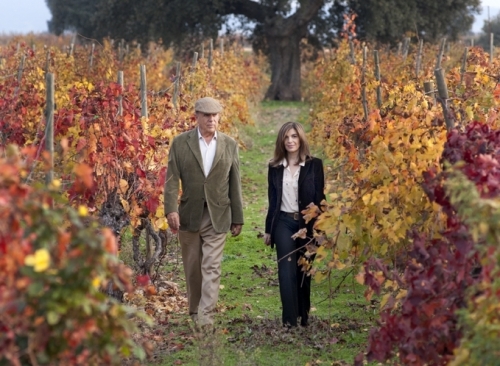 The President of Pagos de Familia, Carlos Falcó, will be attending the conference "Export and Production Models" as a lecturer on the upcoming May 13th
24.04.2015 |
Being as knowledgeable of the reality of the vineyard in Castilla-La Mancha as he is, the Marquis of Griñón, Carlos Falcó, will be attending a conference in his capacity as lecturer that will be moderated by Ramón Tamanes, the same along with José Luis Bonet, President of Freixenet; José García Carrión, President of the García Carrión Group; Félix Solís, President of Félix Solis Avantis; and Pau Roca, Secretary of the FEV (Spanish Wine Federation). Falcó will be contributing with his experience as a winemaker, analyzing the export model, which is something he was already dedicated to way before it started being promoted during the last few years with the advent of the economic crisis in 2008. "This spirit has awakened a bit later in this region, although the truth of the matter is that times have changed and we now find ourselves in a completely different world to which we must adapt", he reflects.
Hence the Marquis of Griñón considers the work carried out at FENAVIN from its very beginnings as a commercial event as something very valuable, "I have always supported the trade fair, from its very beginnings: the Director is truly carrying out exceptional work and he has managed to consolidate the trade fair at an international level, attracting buyers from right around the world", he affirms, stating that he is a "big fan" of the trade fair.
Falcó, the current President of Pagos de Familia, is one of the most highly respected winemakers in the wine-growing sector both in Castilla-La Mancha and at a national level, as he represents one of the first promoters of the Pagos de España Designation of Origin, giving the high regard to the roots and land as an added value in the final product that they deserve. A wine that should not be sold in bulk –as has been tradition in Castilla-La Mancha- and which must be taken care of as of the moment when the grape turns into its own juice right through to when it reaches the table, he mentions. "If we do not want to sell cheap wine if it is not at a certain price level, then we must conceive another way of handling the vineyard", Falcó warns, "the winery must be fully prepared to bottle and label, the cork and cases must be ready, there must be enough space for stock and the option of having a temperature-controlled area and sufficient logistics to obtain a quality product is of essence".
A crystal clear point of view which was certainly not the norm at other times, "when I was branded as a lunatic" by my friends and family and when the authorities would fine me or refuse to issue the permits", he recalls, while chuckling. It wasn"t until the state of autonomies came into being that Carlos Falcó started to see that all the effort that he was putting forward covering the vineyard right through to the offices started to take shape, "Bono and Arias Cañete supported me in the creation of the Pago Designation of Origin, with ours being the very first of them", he recalls, and as of that moment, the way that they started to understand commercialization of wine in both the region and at a national level started to actually establish the bases for a more conscientious and painstaking product, far removed from the philosophy of "bulk as pedigree." "It has actually been a beautiful story that we have also been able to repeat with olive oil", he reminisces. "And we proved that it can be done".
Despite the fact that Castilla-La Mancha is the region with the greatest vineyard in the world –more than a million hectares are planted- Falcó champions the effort in the sector not being solely focused on the agricultural part. "We also have to tell the farmer that perhaps somewhat less should be produced, but at a higher price once bottled, with which the earnings would be greater".
This way the Marquis of Griñón affirms that it is indeed possible to create a brand and establish it at an international level "and positioning it at a global level is something that we have been modestly doing at our winery, from which we export 65% of the production".
A future to which we must adapt
If there is something that has always defined Carlos Falcó it is precisely his capacity to anticipate the present, a visionary attitude that has turned his wineries into a referent at a national level. "He who does not adapt to all that is to come will indeed suffer in extreme", he assures.
At the time he already predicted the important market niche that existed in the development of an export and production model adapted to the global market. Currently he establishes his horizon in the year 2020, followed by a clue that pointed to information that was published in The Economist, "there will be a population of eight billion in the world and 80% of this population will have a smartphone in their pocket from which they will be able to make direct purchases while doing other activities", he explains. This is a circumstance to which we must adapt, he alerts, and "he who does not adapt will indeed suffer".