The FENAVIN 2013 Wine Gallery is to display 1.300 wines in perfect conditions for tasting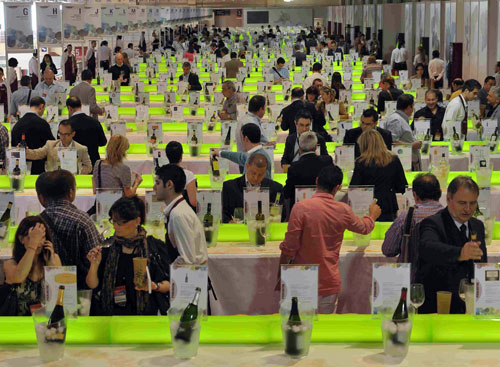 Organic wines will, for the second time after the success of FENAVIN 2011, have their own display space within the Gallery.

All samples are displayed with a label containing a QR code, allowing for fast access to information about each wine.
16.04.2013 |
The Wine Gallery, one of the tools that has become a trademark of the Spanish National Wine Fair, opens its doors this year with 1.300 wines on display and two important innovations: A display area reserved for organic wines that is larger than at the previous event, and labels that include a QR code, allowing buyers to download information about each wine.
The Wine Gallery, as explained by Fair President Nemesio de Lara, allows "buyers from all over the world to connect with the wealth and variety of Spanish wine in a space where each one is displayed at the optimal temperature for tasting".
This year there will be a specific display area for organic wines following the success of a similar space in 2011. This, said De Lara, "shows the trends that are shaping the wine world as, this year, there are many more wineries at the event showcasing their organic wines".
The main aim of the Wine Gallery is to provide sector professionals with a calm and comfortable space for wine tasting. It allows them to sample and learn about the wines that interest them before heading out to walk around the pavilions.
Each wine is displayed with a label, in English and Spanish, containing relevant information such as tasting notes, origin, grape varieties, production methods, price, and the location of the corresponding winery"s stand. This allows buyers to identify and make contact with the wineries that they are keen to do business with.
A novelty at this year"s Fair is the use of a QR code on every label, allowing buyers to instantly download information about each wine and the associated winery or company.
Longer opening hours for buyers to taste wines
The Wine Gallery"s opening hours have been extended at this year"s Fair: It is open exclusively for buyers signed up to the Contact With... software program between 09.00 and 11.30. It then opens for exhibitors, sector institutions, the press, and other sector professionals between 11.30 and 13.00.
Furthermore, there are computer terminals within the Wine Gallery that provide direct access to the FENAVIN 2013 Business Searcher. Similar terminals are also available at key points around the rest of the Fair.