The impact that Fenavin has can be seen in the broad-ranging press coverage made by the national and international media groups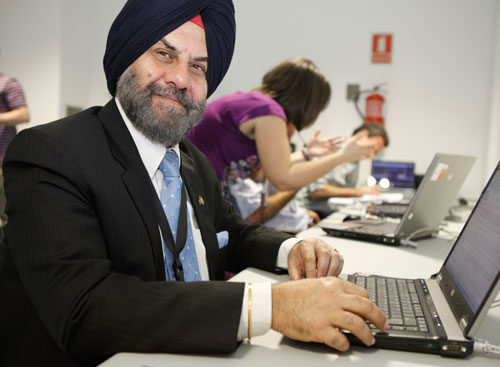 Press coverage by the great national chains and the main international media groups has been incredible at the 6th edition of the National Trade Fair on Wine
12.05.2011 |
Written press, audiovisual press and media specialized in the wine sector, at both a national and international level, have all been present at Fenavin, the National Trade Fair on Wine, held in Ciudad Real from May 10th to the 12th.
2413 accredited journalists, 470 of them from abroad, all came together at this event that has acquired very special national and international relevance. Hence, each and every one of the continents was represented by the information professionals who have been actively working at all the activities, conferences and chats that have been hosted. Thus, the hustle and bustle of journalists in the areas that were specially fitted-out for them has been a regular feature during the three days of the trade fair.
To be highlighted are relevant media groups, as is the case with the Chinese, Food and Wine from Beijing; Wine and Spirits from Shenzhen, Wine from Guanzhou, both in southern China or China Wine News, the latter an on-line digital format. Yoshiko Akehi, independent journalist and delegate of the Jerez Regulator Board in Spain, explained "that at Fenavin it is possible to find everything one could find in Spain in that pertaining to the world of wine, along with the many new features with which the organization always manages to surprise the visitors."
Akehi also mentioned that thanks to Fenavin it is possible to obtain very important information in a short space of time, information that would normally take us months to find. "This trade fair allows us to really become involved in the world of wine, as the exhibitors tell us all about how the product is produced, ranging from the vineyard right through to when it reaches the consumer," she commented. Yoshiko is adamant that Spain must present its culture and its products in Japan, "because Spanish culture, the country's customs, wine and going out for 'tapas' are very much in fashion right now," she concluded.
To be highlighted at a European level we have Informa Agra Foodnews and The Counter Magazine, from the United Kingdom. John Radford, editor of Chef Magazine and member of the jury panel at the Decanter Awards for Spanish Wines who just recently wrote the book The New Spain in collaboration with Mario Sandoval and who highlighted the important evolution that Spanish wines have been undergoing in the last twenty years. Radford has been coming in to Fenavin ever since its first edition, "looking to find as many Spanish communities as possible, but without having to run around thousands of kilometers." He also praised "the great ebullition that has been seen in the quality of La Mancha Designation of Origin," insisting that Spain must work on eliminating the prejudice that exists in his country, "as twenty years ago Spanish wines were associated with low quality and Castilla-La Mancha producers must work hard to establish their own identity."
Magazine Klubu and Wina dam Wina, represented Poland. France, Holland, and Singapore were also present with their correspondents Julián Faulkner, Hoeplaah Persnjin and Edwin Soon, respectively.
India also sent in journalists representing their specialized magazines, such as The Wine Magazine or The World of Liquor Spiritz. "Fenavin is far more professional in comparison with India's national trade fairs," commented Shalini Kumar, journalist for The World of Liquor Spiritz, who has visited the trade fair for the first time with the intention of promoting and increasing consumption of Spanish wine in India, where the wine market is just now starting to see the light. Kumar commented that the experience had been phenomenal, mentioning that Castellano-Manchego wines were "extraordinary, both in wines and cava."
The national media at Fenavin
The national media also covered the event with great expectation as of early morning on Tuesday, May 12th. Hence, at a national level, Televisión Española in its daily midday news program, Telediario 1, broadcast at 3.00 p.m. covered the trade fair's opening event and some of its stands; news that continued to appear in its Canal 24 horas and subsequently, on Wednesday, May 11th, in its morning news program. Televisión Española also made extensive and specialized coverage of the event in its territorial Castilla-La Mancha channel during the three days that the trade fair lasted.
On the first day of the trade fair La Sexta prepared the reportage "Four Wines for Four Purses", which was broadcast in each one of its news programs, at 2.00 p.m. and at 8.00 p.m.
Also, the reporters working for Las Mañanas de Cuatro were present at the "A Life Dedicated to Wine" Awards, at which the effort made by the winery owners and the sector's impresarios was recognized and where three ambassadors of wine were appointed.
On Wednesday, May 11th, Fenavin took on the starring role in the radio. The main radio media groups explained how the event was developing. Hence, Onda Cero talked about Fenavin in its morning program Herrera en la Onda; Cope did the same in Así son las mañanas; Punto Radio followed up in Protagonistas, program that is directed by Luis del Olmo; SER in Hoy por Hoy, anchored by Alberto Granados; Radio Marca, which was broadcasting from the trade fair itself and Radio Nacional 1 in its En días como hoy program.
Many afternoon programs also covered the trade fair, with the Cope again talking about Fenavin in its La Palestra program; Radio Nacional in España Directo and Punto Radio in Queremos Hablar. Likewise Paisajes y Sabores, Orlando Lumbreras' program on Radio Exterior of RNE hosted a debate with winery owners and Fenavin's Director, Manuel Juliá, where they all discussed the situation of the sector.
Finally, on Thursday, the last day of the trade fair, a new debate was broadcast in the Paisajes y Sabores show with winery owners and Nemesio de Lara, President of the Ciudad Real Provincial Government. Likewise, Telemadrid's Madrid Directo show dedicated some time to talking about FENAVIN on Thursday afternoon. Broadcasting of a program dedicated to the agriculture sector, Agrosfera, on TVE2, is also foreseen.
Logically the written press could not miss the event, hence on Monday, May 9th, ABC published an article about the event. However, the most important day for news about Fenavin was Wednesday, with the trade fair appearing in Canarias7; El Correo Gallego and El Progreso, both in Galicia and once again in ABC, which published an article in its national edition.
Likewise to be underscored was the broad-ranging coverage given to the trade fair by the regional media groups. Thus, Radio Televisión Castilla-La Mancha and the other Ciudad Real media groups, broadcasted their complete programming from their different stands, located right at the trade fair itself, independently of whether they were magazines or news programs. In like manner, the regional press dedicated an important number of pages to the great crowds of people that attended the diverse activities that Fenavin had organized for these days.