The Association of Agri-Food Journalists holds its Steering Board Meeting at FENAVIN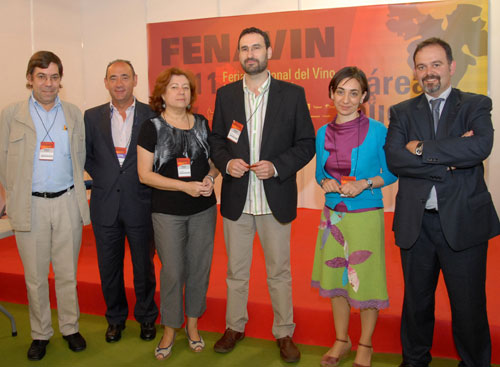 The President of the Association of Agri-Food Journalists of Spain, Miguel Ángel Mainar, has highlighted the impact that this trade fair has on the wine sector
12.05.2011 |
The Steering Board of the Association of Agri-Food Journalists of Spain (APAE) has held its meeting this morning at the National Trade Fair on Wine (FENAVIN), which today reaches its third and last day in the Ciudad Real trade fair grounds.
At the meeting, which was presided over by Miguel Ángel Mainar, an analysis of the situation of the association was made, an association that is formed by seventy-two professionals, with the rate at which new members are joining being very positively considered, as this figure has gradually increased since 2010. Being the same an indication of the good consideration that the association has among the journalists and specialists in this activity.
However, Mainar has been less optimistic in that pertaining to the matter of the Association's structuring. Because the fact that this is a national entity constituted by members that have their points of origin and work in very diverse locations of the Spanish geography is highly inconvenient, as it makes direct and continuous contact in order to manage the different questions and demands and claims that the association has impossible to handle, hence having to make an additional economic effort and likewise representing more work.
As an immediate solution the association has considered the possibility of reconverting the entity, in technological terms, into a digital association by developing a 2.0 website, which will facilitate communication and access to information among the members. "At any rate, this is only a proposal that will have to be debated and analyzed in more depth," the APAE's President emphasized, then explaining that the idea is to be able to work with the associates with the greatest possible efficiency, working in favor of agri-food information and the sector's progress.
In that pertaining to the association's presence at FENAVIN, the President of the Association of Agri-Food Journalists underscored the important impact that the trade fair has on the agri-food sector and, more specifically, on the wine sector. In his opinion, the trade fair offers the professionals of the wine sector an excellent infrastructure and the opinion that he has assessed of the same is a very positive one, in particular on the part of the participating winery owners, who all have an extraordinary image of the trade fair from the point of view of commercialization.
Finally, Miguel Ángel Mainar has thanked the trade fair's organization for all the facilities offered for the celebration of the association's Steering Board Meeting and for their continuous collaboration in the development of the association's activities, as was likewise the case last year at España Original.