At FENAVIN 2001 the recreation of the spirit of Vinalia's wineries wins the first prize of the 3rd Showcase Dressing Contest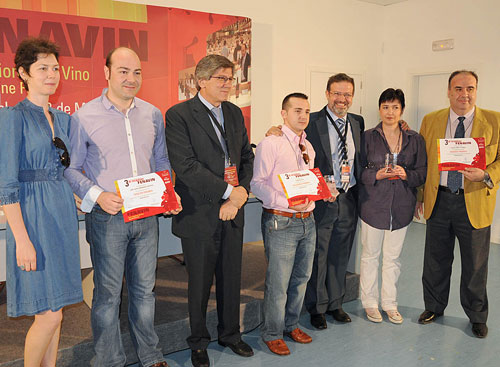 Fusión Óptica and José Hernández Baptista have, respectively, won the second and third prize, while Marionetas, Duende and Deportes Cronos have walked away with the three consolation prizes
12.05.2011 |
The recreation of the spirit of the wineries in which a primary product, the grape, is treasured and representing Vinalia (located at Plaza de la Provincia) has won the first prize of the 3rd Showcase Dressing Contest at Fenavin, with the first prize being worth 4000 Euros. The contest has been organized by the Provincial Government of Ciudad Real in collaboration with the Chamber of Trade and Commerce and the CEOE (Spanish Confederation of Employers Association) and CEPYME (Spanish Confederation of Small and Medium Sized Companies), with the award ceremony taking place on the last day of the trade fair, with Nemesio de Lara, President of Fenavin, and Ángel Amador, Institutional Coordinator of the wine event, being in charge of presenting the winners with the awards. The jury also valued the creativity and originality in the illumination of the winning store.
The second prize, worth 3000 Euros, went to the 'Fusión Óptica' composition located on Calle Cruz, for its adaptation to wine of the settings that were proposed, "Art", "Leisure" and "Science" and for appropriately reflecting these settings, with an excellent composition of color and creativity.
Likewise to be highlighted was the originality of the showcase presented by José Javier Hernández Baptista, located on Calle Calatrava, winning the third prize, which was worth 2000 Euros. As the final touch, the jury decided to grant the three consolation prizes, worth 1000 Euros each, to Marionetas, Duende and Deportes Cronos.
The jury was formed by Paloma Salas (Publicidad Salas), representative of CRDIseño; the photographer Pepe Galanes and Fenavin's press representative, Sandra Ruiz.
Following the award ceremony, Fenavin's President encouraged all those present to continue participating in upcoming editions of the trade fair, underscoring that these initiatives "make us all feel like participants in a project that promotes the city, province and region."
Nemesio de Lara added that this contest serves to prove to all those coming in from abroad, that Fenavin is not just limited to the trade fair grounds, but that it involves the entire city and province, highlighting the indirect business that this wine event is generating for the city's hotels, restaurants and stores.