The President of FENAVIN spreads the word on the importance of the event at Radio Exterior de España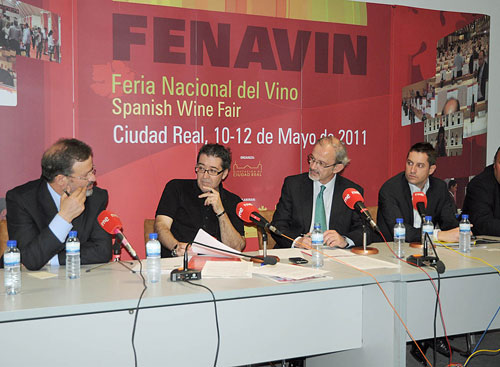 Pedro Juan Roldán has interviewed Nemesio de Lara in his program "Paisajes y Sabores" (Landscapes and Flavors)
12.05.2011 |
Today, Nemesio de Lara, President of the Provincial Government and of the National Trade Fair on Wine, was interviewed on the radio program "Paisajes y Sabores" of Radio Exterior de España, which is broadcast through Radio Nacional to many countries around the world, stating that ever since the beginning of FENAVIN, even when it was just an idea and nobody believed in the project, it had always been thought out as a trade fair for business. As he said, this goal has continued to be steadfast since 2001, although the idea has been perfected with each edition, to the point that we are now wagering on the culture of wine in order to increase moderate consumption of wine.
"The first seeds of the trade fair were planted when a friend of mine came up with an idea -clearly referring to Antonio Salinas-. Already in 1999, during my first investiture speech, I spoke about a monographic trade fair on wine, but the sector did not pay much attention to the idea. So, we have actually reached this point thanks to our determination, professionalism, and administrative capacity as well as by taking things very seriously, pampering the winery owners and winning-over many buyers, among them the 2700 that are coming in from fifty-four countries.
"The idea first arose surrounded by romanticism and utopia, and with brains as well, hence, at this current moment it really is quite normal that I feel proud, although I also want to make it clear that all this is a consequence of the response we have obtained, and of the work and cooperation of an important group of people, headed by FENAVIN's Coordinator and Director, Ángel Amador and Manuel Juliá, respectively. And likewise thanks to an extraordinary team of professionals. Hence, pride overflowing with nostalgia, because in the year 2000 we were in search of accomplices and now the situation is quite the contrary, as we can now boast a list of wineries on a waiting list hoping to be allocated a space at the trade fair and there simply isn't any more room." Nemesio de Lara is of the opinion that "this makes it quite evident that all good things do not necessarily have to come from outside."
Notwithstanding, the President of the National Trade Fair on Wine and of the Ciudad Real Provincial Government has wanted to make it quite clear that FENAVIN is somewhat more than just a great forum where wine can be bought and sold, as it does in fact represent a salutary lesson, or experience, right in the bosom of the economic sub-sectors that are profiting from the celebration of this important exhibitor event, on this occasion during difficult times.
In this sense he has referred to the hospitality and restaurateur sector, to the public transport sector, etc., with Nemesio de Lara then affirming that the companies that collaborate with FENAVIN actually belong to our environment, therefore, I consider that all the reasons that have been put forward are indeed more than powerful enough to justify the existence of the trade fair.
"One of FENAVIN's great inventions has been the Wine Gallery and the complementary activities that take place. The trade fair's reality can be likened to a polyhedron, as any person at all who is related with the world of wine can come in and find an activity that is suitable to their profile, tastes and preferences," he indicated.
On the other hand, Nemesio de Lara also added that the idea in this sixth edition of the trade fair has been to disseminate the word that drinking wine in moderation is healthy, therefore, we must change the concept found in dictionaries that describe wine as an alcoholic drink. "The younger generation is no longer drinking wine because we have created a complex in them," he sentenced, to then continue saying that it is a good idea to transmit this message through well-known people of the world of culture, sports and communication. Ideally we want FENAVIN to also represent a powerful instrument that will help us promote the culture of wine, he added.