Consumption among the younger generation must be motivated in order to find solutions to the drop in national wine sales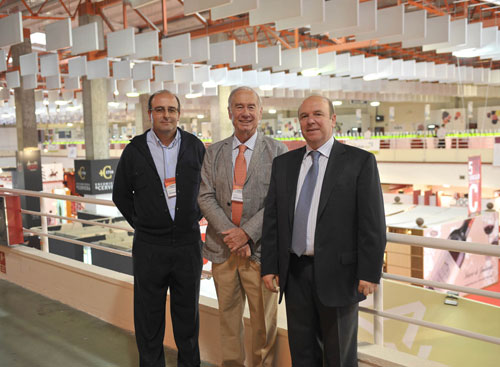 The specialist in gastronomy, Gonzalo Sol, has been in charge of leading a round table on the drop in domestic consumption and its possible causes and solutions
12.05.2011 |
Today, on the last day of FENAVIN and under the title of 'Drop in Domestic Consumption. What have we done wrong?' an interesting round table coordinated by the writer and specialist in gastronomy and wines, Gonzalo Sol, has taken place, the same counting with the participation of speakers such as the vine grower, José Joaquín Moreno Chocano, President of the Cooperativa Los Pozos, in Daimiel, and the winery owner, Jesús Cantarero, owner of Bodegas Fontana. All three of them have reached a similar conclusion: if we can manage to motivate the younger generation, then an increase in domestic consumption of wine will be guaranteed.
Gonzalo Sol started off by quoting the lyrics of a popular song, to then make his opinion crystal clear: "'Aquel que tiene tres viñas y el tiempo le quita dos, que se contente con una y le dé gracias a Dios' (He who has three vines and loses two of them to time, let him thank the Lord and be happy with one.) Well, frankly, I don't want to be grateful. We must fight and change this situation of low consumption. For example, imagine a country like Denmark, where they have only become familiar with wine after forming part of the European Union, and now they consume up to four times more than we do. What I want to do is give rise to a study that will come up with a diagnosis on the situation and its possible solutions."
In the opinion of the National Gastronomy laureate, prestige must be returned to our wines and we must convince the younger generation to enjoy wine, as he believes that the drop in consumption has been caused by those over the age of forty. He is also aware that we cannot return to the level of consumption of the seventies, which stood at about 50 liters, "however, consumption of 30 liters per capita would indeed be a realistic figure."
Jesús Cantarero has been even clearer in his statements, affirming that "there was a time when we promoted mythicism of our product, fighting it out so that the wines produced in Castilla-La Mancha would be recognized and it was during this process that we lost consumers. Now we have to recuperate the younger generation."
The owner of the winery Bodegas Fontana is of the opinion that a bottle of wine and a bottle of carbonated water and just plain water are now missing at the dinner table, and hence, young people have gradually lost contact with the regular habit of consuming wine.
José Joaquín Moreno Chocano indicated that he was in complete agreement with this opinion, adding that consumption of wine is something we "learn in childhood". The vine grower also recalled his harvesting days when he was a teenager, when a wineskin was passed around at lunchtime, independently of how old we were.
"Now we have settled and we just want to live off the interest, off tradition and, in the meanwhile, the younger generation is choosing to consume other products, which means that reactivation must start in our own homes," the President of the Cooperativa Los Pozos affirmed.