Spanish and Portuguese wines, first cousins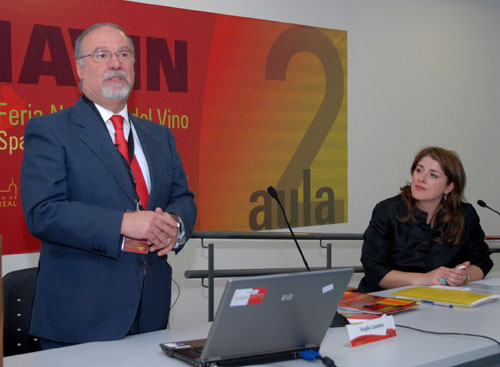 A Portuguese expert in Spanish wines explains the comparable characteristics of the wines of both countries, likewise championing unity of the two countries to promote the Wines of the Peninsula "Brand"
11.05.2011 |
Doctor Virgilio Loureiro (Coimbra, 1950), winemaker and professor of Botany and Biology at the Agricultural Engineering Faculty of the Technical University of Lisbon, has defined the similarities to be found in Iberian wines, the same at FENAVIN during the conference "Our Peninsula: Wines with their own Identity".
Loureiro considers that Iberian wines represent "a great contribution to the world's wine market and they must be jointly promoted by the distributors in order to make them strong at an international level." Also, "these wines, with character and personality, will be giving rise to much talk in the near future in order to counteract the saturation of the market with wines that have nothing to do with their terroir, produced with foreign varietals or as mere copies of other Designations of Origin."
The professor wagers on terroir wines, which have very similar characteristics throughout the entire Spanish-Portuguese border area. As an example he mentioned the wines of the Duero-Douro Valley, which are produced in both countries.
Loureiro's collaboration with the Guía Repsol on the best wines of Portugal and his fine work as an winemaker and adviser to great Portuguese wineries, have turned him into a wine expert who is equally passionate about the authenticity of Iberian wines. This passion is fruit of a lengthy professional trajectory covering more than twenty years in the sector, basically focused in his native country, Portugal, in the areas of Alentejo, Douro, Bairrada, Ribatejo, etc.
He also considers that both the Spanish people and Portuguese people have many analogies: due to their common history, dating back more than 2500 years -since the Phoenicians, Greeks, Carthaginians, Romans, Arabs, Benedictines, Cistercians…-, their climate, styles of wine and autochthonous grape varieties, some of which are common to both countries, as is the case with the Tempranillo/Tinta Roriz, Tinta Mencía/Jaen or Albariño/ Alvarinho grape varieties.