This year at FENAVIN the wine critic Jay Miller and Pancho Campo recognize the excellent quality of Manchego wines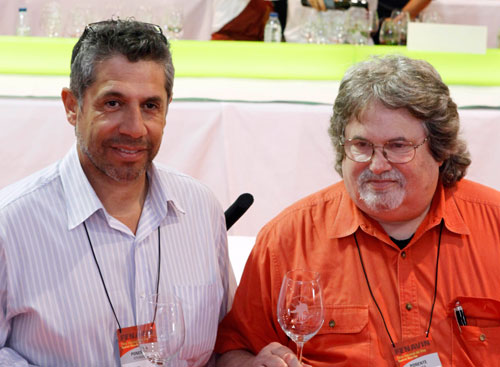 This is the first time ever that the trade fair is hosting a commented "tasting flight" session of thirteen wines from Castilla-La Mancha with more than 250 people in the audience
11.05.2011 |
More than 250 persons, winery owners, impresarios, importers and specialized media groups, have all come together today at the wine tasting session of thirteen Manchego wines, the same in FENAVIN's Wine Gallery and directed by the wine critic Jay Miller, Robert Parker's right-hand man, creator of the prestigious publication The Wine Advocate, who was accompanied by Pancho Campo, the only Spanish Master of Wine. The tasting session has been sponsored by 'Vinos de la Tierra de Don Quijote'.
FENAVIN has never organized a commented tasting session with this number of people representing the sector and with Castilla-La Mancha wines. "Hosting a wine tasting session in order to make the quality of Manchego wines known is indeed a milestone in FENAVIN's history and that of Castilla-La Mancha's wine sector," pointed out the Castilla-La Mancha Minister of Agriculture and the Environment, José Luis Martínez Guijarro, Pancho Campo, Master of Wine and the winery owner Carlos Falcó, Marquis of Griñon. In the words of Martínez Guijarro, it is absolutely historical that Robert Parker's collaborator, "undoubtedly an authority in the matter" is willing to come in and classify thirteen Manchego wines, making them known on all the main markets. In Martínez Guijarro's opinion, this just might be the starting signal that will definitively change the image of Castilla-La Mancha wines, which some even think are not even from this region.
During the introduction to the session, both Campo and Miller pointed out that the American market does not have a defined perception of Castilla-La Mancha wines, "as what they know about Castilla-La Mancha are the windmills, The Quixote, Penélope Cruz, Gasol… Spain is in fashion and wine can indeed benefit from this by pushing the Spain brand."
Average of 93 points
The average score given to the selected wines stands at 93 over a maximum of 100 points. The expert Jay Miller has highlighted the pleasurable factor in the thirteen selected wines, "as these are wines that give rise to much pleasure, made to be leisurely enjoyed." With this selection, Pancho Campo pointed out, the idea is to recognize the quality of Castilla-La Mancha wines, while in turn helping to change the perception there is on the international market that La Mancha only produces low quality bulk wine.
Further beyond the good quality-price ratio of Spanish and Castilla-La Mancha wines, in Pancho Campo's opinion it is important to also communicate this fact, "with joyful, friendly campaigns, that transmit to the world the milestone that this tasting session represents, a tasting session that is 120 meters long. This is the photograph that should appear on the cover of all magazines at an international level, as it is absolutely unique."
The tasting session, which went on for more than an hour, ensured that the properties of all thirteen wines were made known. The highest score was given to Cantos del Diablo 2008 produced by Bodegas Jiménez Landi, and corresponding to the Méntrida Denomination of Origin, which obtained 96 points and was the fourth wine to be tasted. The 96 point score was due to its perfect combination of power and elegance, an outstanding wine," Miller said.
The remaining wines, in the order they were tasted during the session, obtained the following scores:
- 2009 Volver, produced by Bodegas Volver, "well-structured, easy to drink". 90 points.
- 2009 Alaya, produced by Bodegas Atalaya, Almansa DO. 92 points. "Outstanding and very striking wine", Garnacha tintorera grape variety.
- 2009 La casilla Viña Estrecha produced by Bodegas y Viñedos Ponce, Manchuela DO. "Medium body, aromas of lavender, long-lasting on the palate". 92 points.
- Venta la Ossa, TNT 2009, produced by Bodegas Venta la Ossa, between the Alhambra and Valdepeñas. "Highly concentrated and aromatic, long-lasting finish". 91 points.
- 2008 Pago Florentino, produced by Bodegas y Viñedos La Solana. Pago Malagón DO. "Very erotic and aromatic, wide open on the palate". 92 points.
- 2008 Petit Verdot produced by Bodegas Los Aljibes. "Powerful wine, highly structured and long-lasting on the palate". 91 points.
- 2007 Selectus produced by Bodegas Los Aljibes. "Flavorful on the palate, with a touch of spicy fruit". 94 points. Miller hailed a great future for the Syrah variety in Castilla-La Mancha.
- 2007 Finca Sandoval. Manchuela DO. "Fabulous aroma, with hints of smoked meat, balanced and silky". 93 points.
- 2007 Estela produced by Bodegas Arrayán, in tribute to the impresario José María Entrecanales. "With a bounty of fruit and highly structured, perfect in three or four years". 93 points.
- 2007 Hipperia produced by Pago de Vallegarcía. "Frank, sincere wine, which I would drink when it is still rather young". 91 points.
- 2005 El Vínculo Reserva produced by El Vínculo, La Mancha DO. "Well balanced oak, long, overflowing in aromas, complex". 93 points.
- 2005 AAA produced by Dominio de Valdepusa. Jay Miller congratulated Carlos Falcó for the wager he has made since 1991 on the Verdot variety, "it is impressive that vines as young as these can produce a wine of such quality; triple A, dark, delicious, concentrated and powerful, with perfect balance; it will remain in perfect conditions until the year 2030". 93 points plus.