Journalists, academics and politicians will be highlighting the epicurean values of consuming wine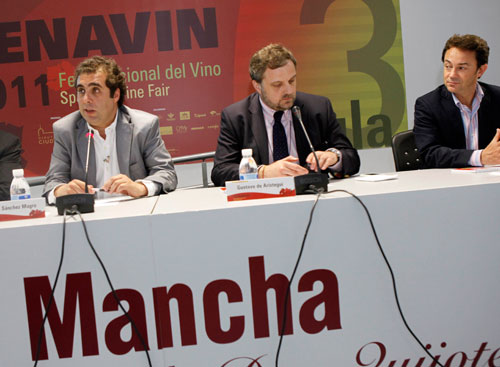 "There is no need to scare off the consumer, as the important thing is to ensure that the consumer enjoys the wine". This comment comes to summarize the round table 'Let's go out for drinks… wine, that is', which has taken place today at FENAVIN 2011
11.05.2011 |
"I think that the wine professionals tend to scare people off. We use too many specific terms that are not understood by the consumer, and the important thing is that they have a pleasurable relationship with wine, that they enjoy wine and forget everything else," explained the wine maker Carlos San Pedro, of the winery Bodegas Pujanza, one of the speakers at the round table 'Let's go out for drinks… wine, that is' round table that was coordinated by the journalist specialized in wine and gastronomy, Andrés Sánchez Magro.
The journalist and wine connoisseur Sergio Saúca was also equally categorical, indicating that as a mere consumer "our wines are a true luxury and we should be aware of this in order to sell them with more strength both at home and abroad."
In the opinion of Gustavo de Arístegui, born in Guipuzcoa and Member of Parliament and gastronomy academic, "gastronomy and wine are a religion and the only difference in wine is that there is good wine and bad wine. In our case going out for 'chiquitos' (small glasses of wine served in the Basque country) is a tradition," he categorically affirmed, once again picking up the thread of the activity.
"Today's great controversy is whether one should drink wine after dinner. I have no doubt that there are excellent wines for this, because wines are so astounding and complex that they can outdo any meal. It is however an option, even if not a classic one, and indeed it is an option to be respected," the politician explained.
Notwithstanding, the most categorical of all the speakers actually belongs to the wine sector. The heart and face of Bodegas Pujanza, Carlos San Pedro, reflected on how he has seen domestic consumption of wine decrease throughout his lifetime. "This is indeed a real problem. I now have to travel all over the world and I am seeing that consumption of wine has increased in all developed countries in the last few years. We are the third producer country in the world, yet we really are very weird when it comes down to consumption. Currently we do not have a culture that reinforces enjoying wine and, in my opinion, this is where we are making mistakes. We have to tone down the battle and let people enjoy wine in whatever way they want to, but drinking wine, of course."
In short, the round table has shown its unanimous agreement in simply highlighting the epicurean values of wine.