Fenavin will be hosting the presentation of a book that is "an example of love for La Mancha and its wide-ranging culture"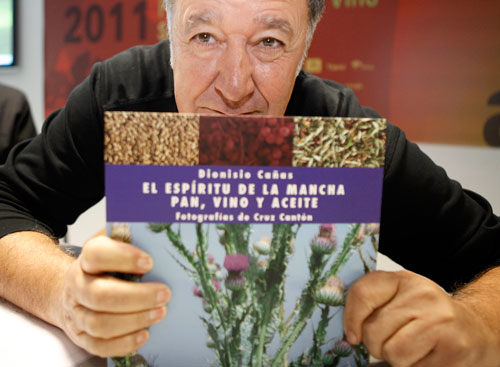 At Fenavin this year the National Poetry Award laureate and Manchego, José Corredor Matheos, presented Dionisio Cañas' book "El espíritu de la Mancha: pan, vino y aceite" (The Spirit of La Mancha: bread, wine and olive oil) along with the author and photographer Cruz Cantó
11.05.2011 |
This year at Fenavin the National Poetry Laureate and Manchego, José Corredor Matheos described the new work of the poet and writer Dionisio Cañas 'El espíritu de La Mancha: pan, vino y aceite' (The Spirit of La Mancha: bread, wine and olive oil) as "an example of love for La Mancha and its broad-ranging culture". The book has been published by the Ciudad Real Provincial Government.
The book is a new essay that is based on the land that saw its birth, in which the importance that these three products have had on evolution of Castilla-La Mancha's society is explored, both from an economic point of view, as well as from a social and religious point of view.
Corredor Matheos was in charge of making a lengthy commentary of the work, which in the opinion of this renowned Manchego poet is a book that "by way of a study made of these sacred food products we delve deeply into the spirit of the Manchego people."
The fact is that Corredor Matheos believes that despite our current break with the past, between that which is spiritual and that which is real, "wheat, wine and olive oil are still essential products and many of us will indeed remember Dionisio Cañas' rich and warm texts and Cruz Cantón's wonderful photographs when we break off a piece of bread and eat it dipped in olive oil with a glass of wine by our side."
Dionisio Cañas: "My personality is branded by the Manchego reality"
For the creator born in Tomelloso, La Mancha has always represented an essential emotional referent, as is the case with New York, my home of adoption, "my personality is branded by the Manchego reality and its mythification through literature and art, just like New York."
Although Dionisio Cañas has dedicated many of his essays and poems to La Mancha, he pointed out that this is the first work that specifically deals with these three food products, known as 'the trilogy of Mediterranean culture'. With the choosing of these products, he explained, "I place Castilla-La Mancha in this culture, yet I also place its agriculture and its climate; apart from which, the three have a series of symbolic properties that are related with Christianity and the religions that preceded it in the countries of the Mediterranean basin."
On his part, the photographer explained how this experience "has been unique for me, as I have learned and realized myself as a photographer and artist thanks to the confidence that Dionisio deposited in me." In this sense, he related how the project came to be, project in which more than 7000 photographs were taken in a six-month period, result of which, according to his opinion "has been amazing, because the images are beautifully linked with Dionisio's words."
Extraordinary work at FENAVIN
For the celebrated artist, the Ciudad Real Provincial Government and the organizers of the Trade Fair have carried out extraordinary work at FENAVIN, not only because of its commercial and social success, and its international impact, but because of its constant concern ensuring that cultural conferences are as highly represented as possible. In his opinion, this commercial-cultural 'pairing' is very important in a trade fair, which is not only limited to increasing financial success, but that also connects the cultural world with the economic world.
He admits that he is no connoisseur of wines, although the custom of consuming good Manchego wines and wines from other areas on a regular basis is something he learned at home. His grandparents used to have a cellar brimming with "tinajas" (large earthen jars) full of wine in Tomelloso. It was in New York, in the eighties, when he started to learn to drink good wine, as there drinking wine became fashionable before this happened in Spain, where wine was associated to taverns and the working classes; "at that time when I asked for a glass of wine in Madrid, they would laugh at me and now it is quite the contrary," he recalled.
On his part, Dionisio Cañas is of the opinion that the culture of wine in Castilla-La Mancha "is very well channeled, with wonderful books and demand for good wines in bars and restaurants." Notwithstanding, I do believe that the population needs to learn to appreciate the efforts made by the producers and vine growers in order to open up a niche in the Spanish and international markets, for which the wineries should also hold "as many cultural activities related with wine as possible, in particular those involving music, art and film and moderate consumption of local wine."