The poet Pedro A. González Moreno spoke about wine, literature and memory at FENAVIN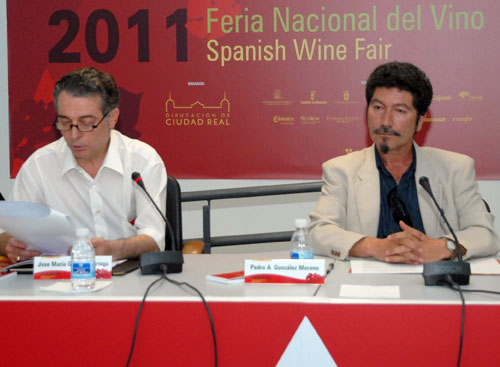 Pedro A. González Moreno offers a conference that overflows with emotional memories and cultured literary passages
11.05.2011 |
The poet Pedro A. González Moreno has recreated the presence of wine in literature at a conference that he imparted this afternoon at FENAVIN, National Trade Fair on Wine, which is taking place in Ciudad Real from May 10th to the 12th.
This has indeed been an interesting literary, poetic and personal reflection of this writer and poet who was born in Calzada de Calatrava, and who was introduced to the audience by the poet José María González Ortega, who after taking the audience on a brief tour of his childhood, delved into the world of wine that the great authors depicted, authors such as Seneca, the Archpriest of Hita, Gonzalo de Berceo, Fernando de Rojas, Cervantes or the Manchego authors Eladio Cabañero and Sagrario Torres, among others, interspersing beautiful and well-known verses and literary passages. "As the poet that I am, I am the perfect liar, as is proven by the first poem I ever wrote about wine, when I was just seventeen years old, and hadn't even tried it yet," he related.
During the course of his conference, apart from literary contributions linked to the culture of wine, he also spoke about the curative or medicinal powers of wine, which also appear in literature. He also reflected on the diversity of the 'architectures of wine", from the curve to the straight line. "The sense of wine, per se, is that which is Dionysian, that which is impulsive, the roundness: of the grape, of the amphorae, of the glass, etc., and not that which is balanced, that which is Apollonian, save the terrifying example of the tetra brik carton packages in which some wines are contained."
Pedro Antonio González Moreno (Calzada de Calatrava, Ciudad Real, 1960) admits that as a Manchego he is indeed a great consumer of wine. Part of his poetic works is included in the anthology 'La erosion y sus formas' (Erosion and its forms), Madrid, Vitruvio, 2007. He is also the author of the essay 'Aproximación a la poesía manchega' (Getting to Know the Poetry of La Mancha), published by Biblioteca de Autores Manchegos. Among other awards, he has also received the consolation prize of the Adonais Awards for his work 'Pentagrama para escribir silencios' (Pentagram for the Writing of Silences).