Pairing of sparkling and sweet wines continues reaping in success in its second session at Fenavin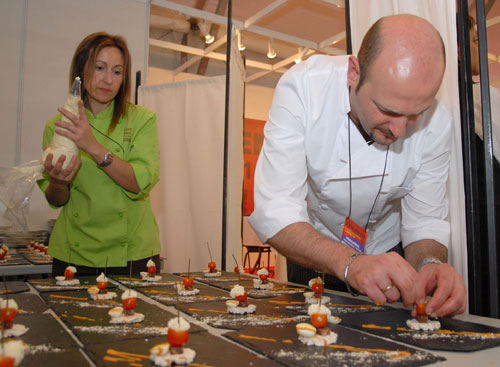 The 'Mejor con Vino' (Better with Wine) project, responsible for the organization of the event, was very satisfied with the favorable reception of its food pairing sessions
11.05.2011 |
The sixth edition of the National Trade Fair on Wine was host to the activity 'Pairing of sparkling and sweet wines of the region II', organized by the 'Better with Wine' Project of the Ciudad Real Hospitality and Tourism Association and the capital's Provincial Association of Wineproducing Industry Impresarios. For two days running it was possible to try five different wines, sparkling and sweet wines, in the company of elaborated gastronomic dishes.
Once again the wager was on the region's sweet and sparkling wines. "The idea is to promote our wines and give them the necessary support to expand on new markets," affirmed Cristina Miranda, Representative of the Hospitality and Tourism Association, promoter of the Better with Wine Project.
Professionals, visitors and members of the different stands enjoyed the opportunity to delight in the following pairings with sparkling wines. Rosevi wine, produced by Bodegas Mª Luisa Rodriguez Huertas, (Socuéllamos) was paired with a cherry tomato stuffed with Manchego cheese cream with a cube of dry-salted tuna, rice torte and quail egg on a Manchego ratatouille mousseline. While the Brut Nature produced by Cuevas de Santoyo, in the province of Toledo, was paired with a wedge of confit of salmon in Grandmother Cándida's brine-pickled partridge with pink pepper. Finally, the Cantares Brut produced by Vinícola de Castilla, (Manzanares) was enjoyed with a loin of deer in its own juices with caramelized pine nuts.
Once again the sweet wines held the starring role. Hence, the participants enjoyed the sweet wine Olimpo made by Vinícola de Castilla with ingots of partridge pate with wild forest berry jam and orange shavings; the Corte Dulce wine, made by the Ciudad Real winery Pago del Vicario was served with an Almagro eggplant mille-feuille with white wine gelatin and quince meat. "We have carefully studied the properties of each wine, whether sparkling or sweet, in order to pair and enhance the flavor of the wines and tapas," explained Javier Huertas, Executive Chef at the Santa Cruz Motel in Santa Cruz de Mudela.
Participating in the session, which enjoyed an extraordinary reception in the Custodio Zamarra hall, we had Teófilo Arribas, President of the Provincial Association of Hospitality and Tourism Impresarios; Alfonso Monsalve, President of the Provincial Association of Wineproducing Industries; Javier Delgado, Executive Chef at the Santa Cruz Motel, in charge of preparing the dishes; and Alfonso Silva, President of the Hospitality and Tourism Association of Toledo. During the session the participants analyzed the organoleptic properties of the wines, use of the senses and handling of the wine glass, among other activities that helped to enhance the aroma and flavor of all these products.