"The future of the sector in Spain depends on grape juice becoming a priority in Castilla-La Mancha"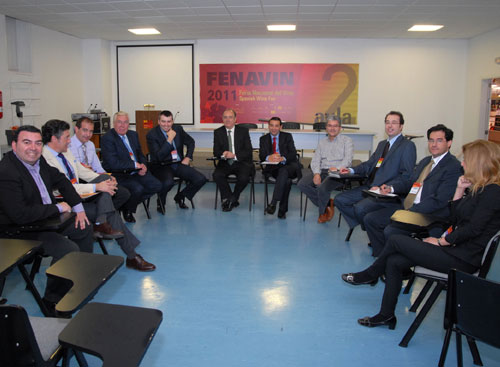 Román Cantarero, President of Azumancha, Association of Producers of Grape Musts and Grape Juices of Castilla-La Mancha, national leader in the sector, presided over the association's Executive Committee at FENAVIN
11.05.2011 |
The recently certified Association of Producers of Grape Musts and Grape Juices of Castilla-La Mancha (Azumancha) held its Executive Committee at FENAVIN, the National Trade Fair on Wine, during which it affirmed that "the future of vine growing in Spain depends on grape juice becoming a priority in Castilla-La Mancha", adding that "it just doesn't make sense that by the month of May we will not have any grape must left to transform in this autonomous community, which is the national leader in the sector."
Román Cantarero is indeed concerned about the lack of raw material. "It seems that the sector in Castilla-La Mancha is giving less importance to grape must than it should have, because we are in fact the future and the figures can back us up on this," he said.
Indeed, consumption of grape must has increased in more than 25% in one year, going from 3.1 million liters to 4 million, and "it would have increased an additional 25% if we had raw material, because by the month of May there was no more product available for our companies."
"I do believe that the sector is in need of better planning so that by the beginning of the campaign we can insure that 30% of production remains in the shape of grape must, which would be good for the wineries and cooperatives, because it allows us to eliminate the surplus wine we later have and capitalize and reap the benefits earlier on," Cantarero said.
Or in other words, as Cantarero also said, "we have to export more in Castilla-La Mancha, apart from the fact that 50% of what we export should be bottled and we have to allocate 700 million liters to grape juice in order to cover the important demand we have."
If wine consumption is dropping and consumption of other types of beverages is on the rise, why are we not responding to this demand?
In the opinion of Azumancha's President: "Nowadays grape juice holds the starring role in the world of wine, and society is consuming more and more beverages and non-alcoholic drinks, which means that we should accommodate the market and take advantage of this trend by diversifying, and if the sector is demanding grape juice, above all, when consumption of wine is dropping, well, we will have to cover this demand and not work against it."
I would give Fenavin a 10 in as far as commercial contacts involving wine are concerned
Azumancha's representatives have commented that they find the trade fair to be very interesting, "not so much for the world of grape must, but indeed for the world of wine; undoubtedly this sixth edition with importers of global category is the best one ever, and on my part I can say that I would give Fenavin a 10 in that pertaining to the offer and commercial contacts, as there is no doubt that it is Europe's best trade fair, and practically the world's best trade fair, because people from Brazil, Hong Kong and many other places are coming in and the contacts we made when visiting these countries were trifling in comparison."
Azumancha gathers together 15 grape must transformer companies, which represent 95% of grape must production in Spain. The Executive Committee has been working at Fenavin with a clear objective: to inform and spread the word on grape must and juice and on the development of promotional and commercialization formulas for grape juice aimed at the final consumer.
Apart from its President, Román Cantarero, of the winery Vinos y Bodegas SA, Azumancha's Executive Committee is made up by Francisco González, First Vice President of Mostinsa SA, Bernardo Navarro, Second Vice President of Gardovial SL and the members Juan Ramón Lozano of Conuva SA, Gregorio Ruiz, of José García Carrión SA, José Jimeno, of Bodegas Mendieta SL, Luis Huertas, of Movialsa SA, Javier Ramón Ruiz, of Coop. Cristo de la Vega, Tomás Fernández, of Coop. Nuestra Señora del Rosario and Juan Robles, of Bodegas Unidas de la Mancha SL, and finally Manuel Civera of Auster Consultores SL in his capacity as Secretary.
The current situation of our sector was analyzed during Azumancha's Executive Committee Meeting, likewise evaluating the level of execution of the associative activities that are being carried out.
It is to be highlighted that five million hectoliters of grape must have been produced in Spain during the past 2010/11 campaign, of which 80% percent (four million) have been produced in Castilla-La Mancha, with which AZUMANCHA is the organization with the greatest sector representation in this product at a national level and there is no doubt that the association had to be present at this most important European trade fair.
Azumancha, which was certified as an association in the Official Gazette of Castilla-La Mancha on December 13th of 2010, has wanted to take advantage of its participation at FENAVIN in order to make the association known at its corporate stand and to prepare its coming out, so to say. This association saw the light with the goal of defending the interests of the grape must and grape juice sector. In this sense one of its first actions was to register the association as a legitimate lobby before the European Commission. "This is the first Spanish action aimed in this direction," Cantarero added.