The wine producers highlight the importance of FENAVIN and of the facilities that the organization puts at their disposal to do business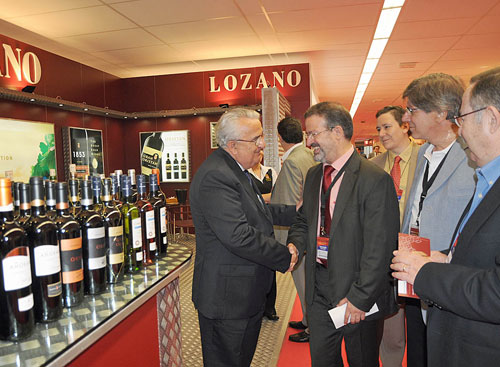 The President of the trade fair has received very positive testimonies on the trade fair from the exhibitors themselves
11.05.2011 |
The President of the Provincial Government and of the National Trade Fair on Wine, Nemesio de Lara, since the first day of the trade fair, has been receiving numerous testimonies of appreciation for the organization of this important monographic wine exhibitor event, leading trade fair in Spain and one of the three most important held in the world. Above all, the wine producers have highlighted the magnificent facilities that the organization puts at their disposal to do business and establish commercial contacts.
As an example, Pablo Sevilla, of the winery Bodegas Lozano, declared that "FENAVIN by far surpasses Barcelona's Alimentaria in the wine sector."
And on his part, the Manager of the Ribera del Júcar Denomination of Origin, Juancho Villahermosa Gomez, assured that "FENAVIN is Spain's best trade fair, because it is only dedicated to wine and it can certainly be considered among the best three trade fairs in the world, along with the Bordeaux Wine Festival." He also added that the organization is excellent and that the facilities that the trade fair puts at our disposal to guarantee increased presence of buyers are more than just outstanding.