The University of Castilla-La Mancha focuses on innovation as the sector's future wager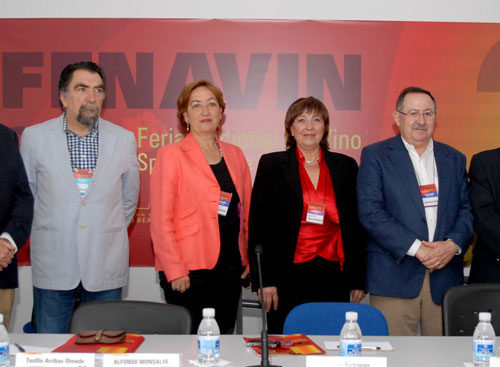 The study of minority varieties, waste and residue management, treatment of white wines to avoid oxidation and commercialization and promotion of wine have been the focus point of this edition's workshop
11.05.2011 |
This year at FENAVIN 2011 the University of Castilla-La Mancha (UCLM) has hosted a comprehensive thematic and technical workshop that has focused on the role of innovation as a tool of differentiation in the wine sector. The session started with the presentation of the WINETech Project, the same in charge of Jesús Ángel Peñaranda, of Agri-Food Cooperatives of Castilla-La Mancha and Rosario Salinas Fernández, Doctor in Agricultural Engineering of the UCLM. The fundamental objective of this project is innovation and transference of technology in the wine sector. That is, it is a tool aimed at creating synergies in order to be more competitive by way of innovation and, what is most important, it can be consulted and researched in-depth at www.winetech-sudoe.eu.
Professor Miguel Ángel González Viñas then presented his evaluation on 'the enological potential and quality of red wines made with minority varieties grown in Castilla-La Mancha'. The main objective in this project is recuperation of minority varieties in Castilla-La Mancha, evaluating their enological potential and the characteristic varieties of quality wines by optimizing the production practices in an experimental winery, La Iniestense (Cuenca), with the intention of increasing acceptance of the region's wines. Varieties such as Moravia Dulce, Moravia Agria, Rojal and Tortosí are all included in the project. Diverse variables are studied, such as the degree of ripeness of the grape, contact with the skin, treatment of grape musts and wines with commercial enzymes in order to enhance color and aroma, as well as contact with American and French oak. In short, González considers that these thoroughbreds are qualitatively suitable for the production of single variety wines.
The baton was then picked up by Jesusa Rincón Zamorano, who continued with a lengthy analysis on waste and residue management, specifically on obtaining polyphenols as of grape residue, components that are tremendously valuable in wine. On his part, Isidro Hermosín Gutiérrez's subject of choice was prevention of oxidative maderization in white wines.
Finally, Miguel Ángel Gómez Borja undertook the subject of new methods and new channels in commercialization and promotion of wine, underlining the importance that social networks and on-line sales currently have, increasingly on the rise year after year, without forgetting the importance of traditional tasting sessions, because, after all, the buyer wants to try the product before making an order.