"If we start using social networks such as Facebook and Twitter, we will be able to start selling more wine"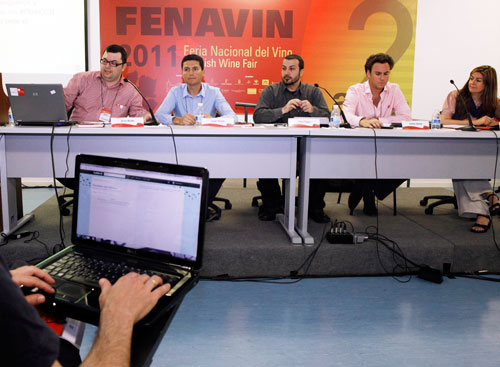 At Fenavin this year experts in new technologies have provided the keys to using the new tools that the Internet has to offer in order to apply them in the wine business, the same at a round table coordinated by the consultant Jesús Benito
11.05.2011 |
One of FENAVIN's objectives is to help the wine sector find alternatives on the market. Hence, in this year's edition it has presented an original proposal, which under the heading of Fenavin 2.0, has gathered together experts in New Technologies in a round table that proposes use of the social networks as a business tool for the wine sector.
The goal behind this debate forum is to "shed light on the world of social networks and the Internet and how to apply them in business", as explained by Jesús Benito, consultant in new technologies and telecommunications.
Jesús Benito, who coordinated the round table, was accompanied by Javier Martín, editor of the portal www.loogic.com, and by Andrés Areitio, partner of the portal www.recetasyvinos.com, along with Albert López, who is in charge of contents at www.uvinum.com and Mª Ángeles Huerta, Representative for the winery Bodegas Vihucas, in the activity organized by the Association of Sommeliers of Castilla-La Mancha and Amigos del Vino (Friends of Wine), sponsored by Vinos de la Tierra de Don Quijote (Wines of the Lands of Don Quixote), a round table that was offered live on www.winesfera.com.
Javier Martín pointed out that these new tools that the Internet offers represent "a way to improve our business, because social networks such as Facebook and Twitter could turn into a new channel to make our product known and to help us sell more wine." Martín also provided the key to creating a community, because "this way it is easier to find a group of people interested in the product we offer."
According to Martín, the advantage resides in the cost, as in principle use of these networks is free "and they can be used from the company itself, and if we do have to finally pay for the service, the cost will not be very high."
Albert López then explained the experience with his portal, in which he highlighted that a key factor is social recommendation, as according to López, it is fundamental when making a purchase, because in most cases when we want something we like to hear the opinion that others have of the same.
Apart from explaining the work method that they follow and the idea of the portal www.recetasyvinos.com itself, Andrés Areitio also put forward a series of examples of use of Facebook, for free, in order to do things in favor of the business, underscoring that the main advantage is that this network helps you to know your clients.
As a conclusion, Mª Ángeles Huerta explained how a small winery in La Mancha is growing in importance thanks to the Social Networks.