At FENAVIN this year ASEVICAMAN champions promotion of wine as a natural food product and element of the Mediterranean diet, Intangible Cultural Heritage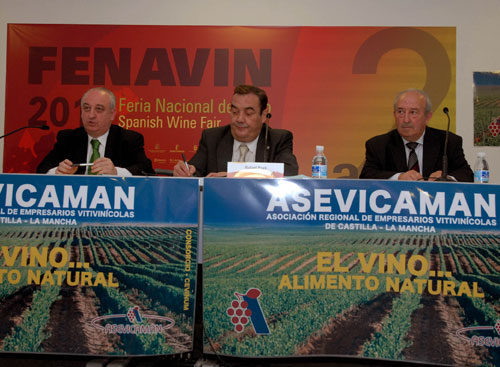 This May 10th the Regional Association of Wine Producing Companies of Castilla-La Mancha has held its annual Steering Board Meeting at the National Trade Fair on Wine
10.05.2011 |
The Regional Association of Wine Producing Companies of Castilla-La Mancha (ASEVICAMAN) held its annual Steering Board Meeting at FENAVIN this year, which is taking place from May 10th to the 12th, with said meeting being headed by the association's president, Miguel Ángel Valentín and the secretary general of AEMZUCAMAN-AEMZU, Rafael Puyó. Various representatives of the Castellano-Manchego region's trade companies, such as Félix Solís or García Carrión, also participated in the meeting that took place in Lecture Hall 2 of the trade fair grounds.
Rafael Puyó defends promotion and rating of Spanish wines, the same hand-in-hand with the Spain brand in order to give the product prestige. In this regard, he considers that the institutions and administrations hold a very important role in that pertaining to dissemination of wine as a natural food product, as is duly outlined in the Law on the Vine and Wine, that Parliament has just recently passed.
In his opinion, it is about time that governments step in and intervene in the matter of giving prestige to consumption of wine as a food product, apart from spreading the word on the fact that it is a fundamental element of the Mediterranean diet, recently declared Intangible Cultural Heritage by the UNESCO.
ASEVICAMAN's Steering Board, in which important industries and trade companies are represented, as is the case with Félix Solís or García Carrión, debated current regulatory aspects pertaining to the Law on Food Quality and matters such as the professional contracts. Other aspects were also put forward, as was the case with the national support plan "that we want to extend", Puyó commented, or the investment plan that will be allocated in the national support plan. The wine producing impresarios of Castilla-La Mancha will also be requesting an extension of the current CMO on wine, "as it makes no sense to halt production and shut it all down in 2013, because we need promotion and investment in order to survive."
In that referring to liberalization of the vineyard, AEMZUCAMAN-AEMZU's secretary general is not in favor of its start-up in 2015, but would in fact prefer that all possible incidents until 2020 be improved and evaluated, with guidelines established in accordance to worldwide production, consumption or classification of the products. In his opinion, this is not the moment to liberalize, because domestic consumption is in a terrible state and worldwide consumption is also on the decrease.
In Rafael Puyó's opinion, the whole matter should start with promotion and commercialization, counting with the help of the institutions to spread the word abroad on the excellent qualities of wine as a food product. Why aren't we going to Asia and America to tell them that the Mediterranean diet, of which wine is an important component, has been declared an Intangible Cultural Heritage by the UNESCO itself, so that the client can consider wine as a natural food product?, "because there is no need to actually know anything about wine, but simply realize that it is pleasant or not, that we like it or not, that's all," AEMZUCAMAN's representative considers.
Promotion of the Spain brand
In this ongoing race to commercialize, Rafael Puyó considers that we are lagging behind other countries. One of the examples he set forth was Australia, where they sell three times less than Spain in as far as volume is concerned, and yet they are reimbursed with the same amount of money as the Spaniards. In this sense he is asking for more technical support and more studies under the control of the administrations, likewise claiming greater support for other vine growing products such as grape must and juice, "which do not receive any type of help whatsoever, be this for promotion or for anything at all."
If we continue along this line, Rafael Puyó stated, "then we will continue to sell wine in Spain at 0.96 cents/liter and at .043 cents a liter in Castilla-La Mancha, so we really do have to work with the brand Wines from Spain. We can't just rely on the Japanese knowing where Somontano or Tacoronte are located…".
ASEVICAMAN represents commercializing companies, which produce all types of wines, with firms such as Félix Solís and García Carrión, leading companies in Europe. The association is also present in the inter-professional associations of La Mancha and Valdepeñas Denominations of Origin. One of the association's main objectives is to concur with the profession, insuring professional and depoliticized treatment.