At Fenavin we have discovered that "the guitar is born of the land and has a plant soul, just like wine"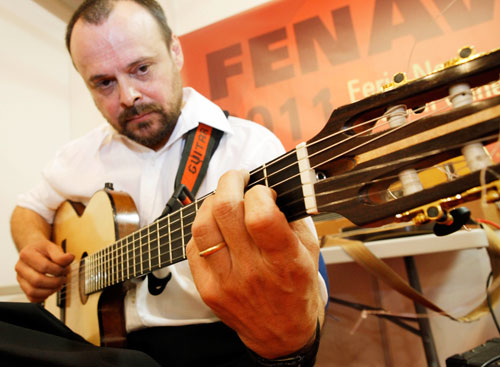 These words were spoken by the luthier (musical instrument maker) and Argentinean composer Guillermo Burgos, at the National Trade Fair on Wine during the concert tasting session "Guitar and wine, pleasures that are accompanied"
10.05.2011 |
The Alonso Quijano School of Writers in Alcázar de San Juan has been invited to participate at the National Trade Fair on Wine (FENAVIN) for the first time, with a curious and innovative cultural wager: an unplugged concert performed by the Argentinean composer Guillermo Burgos, during which we were able to observe how "the guitar is born of the land and has a plant soul, just like wine."
The idea behind the event was to pair music and wine, hence the audience had the opportunity to delight in the different music styles that harmonized with the wines they were served. "I have chosen a fresh music for the white wine, as is the case with Brazilian music; now, for the Tempranillo wine I have preferred a more free-spirited and creative music, just like jazz and blues."
An Argentinean tango for the crianza wine
"And, finally, to accompany the crianza wine I will be playing an Argentinean tango, because it is a symbol of maturity, passion and adultness."
Burgos also took advantage of the occasion to present his own guitar designs, hand-made and with natural raw material, such as noble, well-established woods, which is what gives the instrument its peculiar sound. The electric guitar, the traditional guitar or the harp-guitar were the main types of guitars that the Argentinean played during his concert.
Since time immemorial music and wine have always been associated to pleasure, "and as an example we can have a look at typical images in which the Romans were drinking wine while listening to percussion instruments, flutes or guitars," Guillermo continued.
On her part, Paloma Mayordomo, organizer of the event and teacher at the Alonso Quijano School, told the audience that "literature is mute, yet in turn it is highly present in these wines and in this music, which compose the written letter of this concert."
This has undoubtedly represented a pioneer activity at the trade fair, in which the huge crowd that came in to listen was completely satisfied with the performance.