"Progress and humanity's evolution has been linked to the reality of wine since ancient history"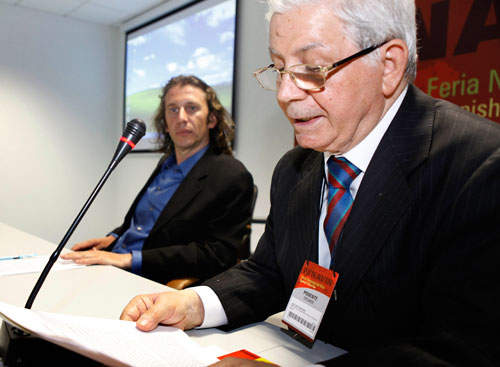 The writer José López Martínez talks about the existing symbiosis between wine and society
10.05.2011 |
This afternoon the writer, poet, journalist and literary reviewer José López Martínez offered an interesting and rigorous overview of wine in the history of humanity and in particular in Spain and Hispanic America and its establishment in societies of all times, this at FENAVIN, which is taking place in Ciudad Real from May 10th to the 12th.
José López Martínez, who is also the director general of the Spanish Association of Writers and Artists, has particularly referred to wine in literature, where it has held and still holds a preferential position in essays, novels and in poetry.
During the conference 'Wine and Society', the journalist and writer has spoken about the importance that wine has in all of society's events, practically walking side-by-side with humanity on all its special occasions. López Martínez has mentioned that the culture of wine has made Spanish society sound, giving it style, as the culture of wine is to be found throughout all of Spain, in every single last corner, as can be seen by the Designations of Origin and classifications that are attached to different names of our geography, as is the case with Ribera del Duero, Rioja, Cariñena, La Mancha, etc.
Jorge de Arco has been in charge of introducing López Martínez to the audience, doing so in a poetic and illustrated way, with a brief outline of his life ever since he was born in Tomelloso in 1931. "Writer, poet, journalist and literary reviewer, he has lived in Madrid since 1955, fully dedicated to the world of literature and journalism" he said, pointing out that he is also the editor of the Mexican newspaper "El Informador", collaborator in cultural programs for Radio Nacional de España and for the magazines "Mundo Hispánico" and "La Estafeta Literaria" and he is also the vice president of the Ibero-American Press Association and director general of the Spanish Association of Writers and Artists, and he is also the director of the magazine "Mirador". He is the author of about twenty books and laureate of numerous awards in journalism, poetry and fiction, having been recently appointed "Honoris Causa" by the Royal College of Saint Luke, in Germany, one of Europe's oldest and most prestigious academic institutions. To be highlighted among his published books are titles such as En el mar riguroso de la muerte (In the Rigorous Sea of Death) (Rabindranath Tagore Award), Lugares de La Mancha (Places of La Mancha) (declared of National Tourist Interest) and the most recent of his works, Memoria de nuestros clásicos (Report on our Classics).