"The goal of the winery owners is not to educate the consumer, but to seduce the consumer"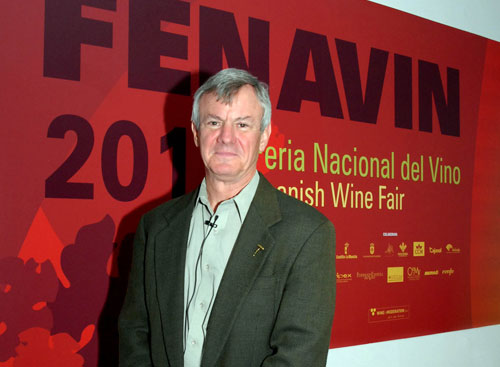 10.05.2011 |
Paul Wagner, international wine consultant and president of the company Balzac Communications & Marketing, has masterfully put forward the characteristics and tipicities of the American consumer, as well as the situation of the wine market in the world.
Wagner categorically affirmed that the future of wine in the United States is in the hands of the 'Millennial Generation', young people, representing both sexes and with ages standing between sixteen and thirty-two, "who are not afraid, who understand technology and connectivity and who have a different view of the world". This new generation represents a great challenge for us: how to sell wine to this segment of population… and there really is only one way to do it, by thinking they way they do. What wines do the younger generation want? They want a story behind it, they want to fall in love with the wine, they want to open the bottle, they want to escape from reality and they want to travel to wonderful places, because for them wine is not simply a drink, it is a ticket to other places, to other countries. However, "winery owners are not seducing them, as they only talk about wine, when what they should be selling is this dream, this trip, reaching their hearts, not their senses. We must understand that the consumer does not necessarily have to be an enologist to enjoy wine."
Wagner affirms that "in that pertaining to the quality of wine, many Spanish wineries and wines have all the qualities to enjoy success on the American market. However, very few have actually tried to differentiate themselves. From a commercial and marketing point of view, the approach taken to sell Spanish wines is in need of a change of strategy. For years now it has all come down to barrels, stones, climate and fermentation. While, the truth of the matter is that the consumer does not have to be a wine maker to enjoy wine. Wine must communicate the culture of the region where it was born, it must be served as a symbol of music, poetry, architecture, history, the real life of the people on this planet, and then it will be possible to sell that wine."
Undoubtedly this has been both a very interesting and curious conference from beginning to end: "with wine it is not a matter of data and the goal of the winery owners does not reside in educating the consumer, but in seducing the consumer." This categorical statement, which muddles up the commercial and marketing strategies of most wineries, which only talk about vinegrowing, geology, botany, organoleptic characteristics… that is, in this context, the situation of "disadvantage" of Spanish wines on this market is more than clear.
Paul Wagner
Considered a true guru of wine and established in California's Napa Valley, one of the most prestigious wine producing regions of the United States, he is also the president and founder of the company Balzac Communications & Marketing, enjoying a wide-ranging portfolio of international clients. He is also professor at the Napa Valley College of Viticulture & Enology and at the Golden Gate University, apart from being an occasional collaborator at the Sonoma State University, at the MIB School of Management in Trieste, at the University of Dijon and at UC Berkeley's satellite campus, covering the History of Wine, Marketing and Wine Production.
At an international level Paul Wagner is a regular lecturer on wine and its commercialization, including presentations at national conferences of The Society of Wine Educators and The American Wine Society.
He also collaborates in diverse specialized publications and he is a renowned wine taster, all of which makes him deserving and worthy of being a jury member in recognized national and international viniculture competitions.