Fish farming producers and vine growers have joined forces at FENAVIN to revitalize the pairing of Spanish trout with Manchego wines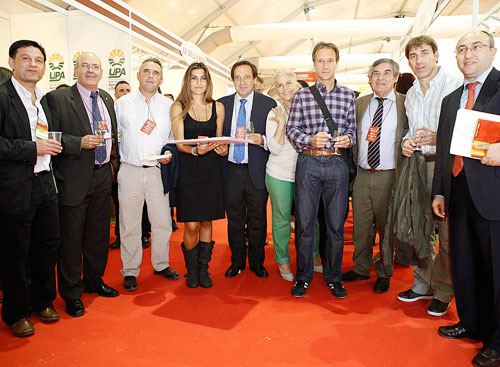 Asaja in collaboration with the Spanish Organization of Fish Farming Producers has organized a tasting session of six La Mancha and Valdepeñas Designations of Origin wines with tiny bites of trout art
10.05.2011 |
The Agrarian Association of Young Farmers (ASAJA) introduced the guests, among them Alfonso and Rafa Martín Vázquez, former football players, into the perfect and unknown fusion of Manchego wines with Spanish trout, activity that took place today at FENAVIN.
With the title 'In Favor of Sustainable Gastronomy. Pairing of the Spanish Trout with La Mancha Wines' the Director of the Spanish Organization of Fish Farming Producers, Raúl Rodríguez, presented a painstaking selection of eight Manchego wines, four red wines and four white wines, paired with exquisite delights made with this well-known fish.
During the food pairing session, which started well past 1.30 p.m. in Asaja's stand at FENAVIN, located in pavilion 4 (Osiris), the national president, Pedro Barato, admitted that he is a neophyte in these matters, although as a taster he pointed out that smoked trout paired with a Yugo or Torre de Gazate wine or trout caviar with red wine "is a perfect combination."
Included in the list of goodies was a Torre de Gazate crianza wine made by Vinícola de Tomelloso, with trout in puff pastry, along with a young Yugo wine made by Cooperativa Cristo de la Vega, in Socuéllamos, with trout and bonito on toast with river crab and fine herbs mustard or Casar cheese tartlets with smoked trout in the company of a Raices Reserva 2004 wine made by Bodegas Fernando Castro, in Santa Cruz de Mudela and a Spanish omelet with trout foam paired with a wine from Casa de la Viña 2010. In the case of the white wines, these were Yugo, Añil, Yuntero and Raíces Blanco in combination with a tropical trout salad, bites of trout with crunchy shrimp and skewer of mini trout rolls with fresh cheese.
The Director of the Spanish Organization of Fish Farming Producers, Raúl Rodríguez, explained that a perfect selection had been made, with eight products and eight wines, some red, some white, including aged wines, reserve, crianza and young wines. Rodríguez recalled that throughout history, tradition unequivocally and in an age-old way, has been combining the wines of the region with the waters that produce extraordinary trout, "as since time immemorial trout has been stored in this area in earthenware jugs, representing sustenance for the citizens of Castilla-La Mancha, and this trout was always enjoyed with the wines produced in La Mancha." Historically, Rodríguez commented, trout has always been an important food product during Lenten season in all regions and in particular for the humble classes.
In his opinion, this culture and sustainable gastronomy must be revitalized, creating synergies to attract the interest of the consumer, "we find support in the wines and, in turn, they lean on us, hence the reason why we are promoting consumption of trout, exporting it to Russia, Germany and Europe, where it is highly appreciated and, logically, we are very pleased to share these international markets with the wines of La Mancha."
The representative of the country's fish farming producers finished off by commenting that more than fifty million tourists come to Spain every year, "and they certainly should try our wines, but in tasting sessions, as there is nothing better in the world than to enjoy a delightful bite of something, with a good glass of wine and in pleasant company."
Vine growers, members of Asaja and celebrities such as the former football players Alfonso and Rafa Martín Vázquez all enjoyed a fine glass of wine in the company of excellent and delicate bites of the trout that Spain has to offer.