Fenavin turns into the platform of presentation of the Guía Peñín concept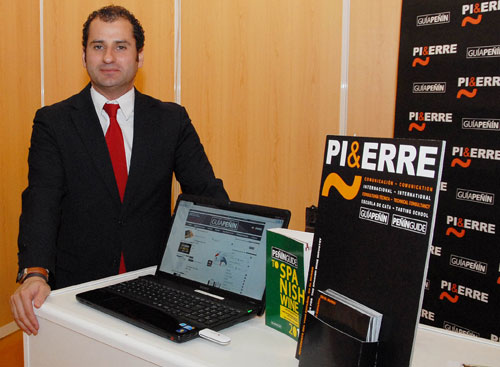 The joint stand "Guía Peñín Selection" offers interesting proposals from thirty-one Spanish wineries, of which approximately twenty are from Castilla- La Mancha
10.05.2011 |
Fenavin, the most important national wine trade fair, and the Guía Peñín, one of the most select manuals in matters related with wine, are again joining forces to rekindle consumption of good wine. Thirty-one Spanish wineries are represented at this joint stand found at the trade fair.
This year expert wine tasters have focused on highlighting approximately twenty of Castilla-La Mancha's wineries and a selection of Terroir wines, produced by eleven wineries from the entire Spanish territory, with a unique and differentiated personality that is achieved thanks to the singular combination of climate, soil, geographic situation and technical wine producing applications.
This year the traditional Guía Peñín, which has been coming out on the market in paper format for the last twenty-two years, is taking a new course and turning into a multi-channel guide. Hence, as of the upcoming month of June a new on-line concept of the guide book opens up, the same to be found at: www.guiapenin.com, where the Internet user will be able to find the latest news on wineries, execute advanced searches according to criteria such as price, type of winery or wine, see Guía Peñín TV via the new platform, or the tasting sessions on routes that the firm's expert winemakers are taking throughout all of the Spanish territory's Designations of Origin, among many other activities and debate forums.
Likewise, as of the upcoming month of October, this prestigious wine adviser will be enhancing the guide even more. This means that any customer who buys the printed guidebook will find an alphanumeric code inside, which will allow on-line access to the guide via computer or through the new applications that are currently found on mobile phones. "The idea is that the user can consult the characteristics, prices and locations from anywhere at all, even from a restaurant, consulting the properties of the product right there and then," commented Mar Mirón, Accounts Director for the Guía Peñín.
The Guía Peñín is currently published in Spanish, English and German. This guide represents a work tool for both national and international wineries and buyers, be these the most traditional, as in the case of Germany or the United Kingdom, or those in emerging countries, such as China, Japan, Canada, India, Rumania and the Ukraine, among others.