Wine and finances come together at the Banco CCM stand at FENAVIN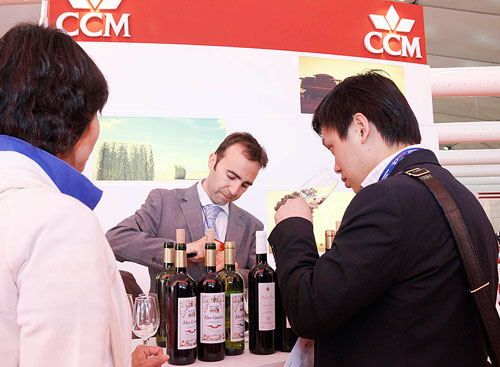 A dozen of the region's main wineries and cooperatives have come together at the Banco CCM's stand at Fenavin. The objective behind the stand is to make Castellano-Manchego wines known and to ensure the greatest possible number of financial activities.
10.05.2011 |
Once again this year at Fenavin 2011 Banco CCM has turned into the ambassador of the Manchego wineries. Hence, twelve cooperatives and wineries from the entire autonomous community that is hosting the National Trade Fair on Wine have come together in a stand in which business opportunities are increased several times over.
An important team of professionals for the wineries Bodegas Alto Landon, Pinuaga, Isla, Ayuso and Entremontes, along with cooperatives such as Ntra. Sra. de la Estrella or Ntra. Sra. del Socorro, has organized a stand in which tradition and modernity go hand-in-hand. Fitted-out with urban, modern furniture, this is a stand where the visitor can try the extraordinary wines made by the Manchego wine-producing sector.
Hence the exhibitor has focused the work on making wine known as what it truly is, "a treasure, which must be popularized among the importers, exporters and all those related with the world of wine," according to Pelayo Dorado, the person responsible for Banco CCM's corporate image. Thus, the visitor will enjoy the opportunity of seeing how a premium quality product is produced, as is the case with Manchego wine, "and the tasting sessions will be the ideal setting to corroborate this fact," Dorado asserted.
To be added to this main activity are the efforts made by all of the institution's executives, who will be at the disposal of the visitors and potential clients in order to offer them the main financial services to cover any type of need that could arise in these three days.
The worldwide wine market is concentrated at Fenavin
The banking institution, which is once again sponsoring the National Trade Fair on Wine, will be actively participating in all the educational conferences, such as the one held on Tuesday, May 10th, which was focused on wine and sports, with the participation of prestigious Spanish sportsmen.
Finally, the financial institution, with Pelayo Dorado at its front, made a call to the public to visit the trade fair, because "Fenavin is backed-up by its ten years of experience and we only have to look at the figures to see that success is absolutely guaranteed." The truth of the matter is that the worldwide wine market is now concentrated in Ciudad Real during these three days, therefore, expectations are indeed good, to the point that they are exceeded year after year, a fact in which the Banco CCM trusts.