At the opening of FENAVIN, Nemesio de Lara wagered on supporting and increasing the value of the vine grower's work with unanimous actions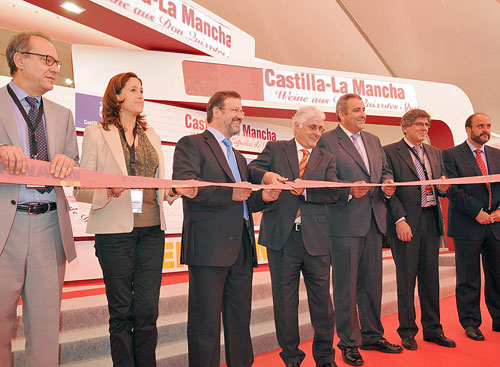 This morning the President of Castilla-La Mancha opened the doors to the sixth edition of the National Trade Fair on Wine
10.05.2011 |
During the FENAVIN 2011 opening event, the President of the National Trade Fair on Wine and of the Provincial Government of Ciudad Real, Nemesio de Lara, made an unequivocal wager on supporting, increasing the value and promoting the figure of the vine grower, of the producer farmer, in the complex framework that makes up production, elaboration and commercialization of wine. In addition he reached even further, making it quite clear that this difficult enterprise can only be achieved by way of institutional, associative and professional actions put forward over the basis of unity and through unanimous agreements. "Unity of the territory is of essence in the negotiation, unity of all the sub-sectors, as is the case with political unity, as opposed to partisan wars," he said.
He also added that the concept of rural development is lacking in meaning if the farmer is not involved in the establishment of population and creation of stable and long-lasting human structures. "We must think more about the vine grower," de Lara claimed, who is of the opinion that there is certainly a better way of sharing this pie. He also insisted that if this is not possible by way of broad-ranging inter-professional agreements, then we will have to stick our necks out so that the agricultural professional can enjoy more prominence in the evolution of the food chain.
He also granted the wine-producing sector an important role. In his opinion, the wine sector carries out a strategic function, in particular in that pertaining to the work of the farmers in the cultivation of the vineyard, conservation of the environment and in regional planning.
Nemesio de Lara recalled how ten years ago they had the idea of organizing the National Trade Fair on Wine, "obviously with many doubts and likewise with many dreams". "We had to impregnate the initiative with quite a dose of faith, wagering on our own singular model of a trade fair focused on business and on deployment of very professional technical and human means. Apart from offering the sector and vine growers support and solidarity, as we have cohabited, worked and suffered seeing how their dedication and effort did not obtain the expected results," he added.
On the other hand, in his opening speech FENAVIN's President commented that this important trade fair event is "already by far the leading monographic trade fair on wine in Spain." In this respect he specified that he is grateful that some are using the model, while others are copying it, something that he acknowledged "was certainly not to our liking at first." At any rate, as he stressed, "the figures accredit the quality and tremendous magnitude of what we are opening today."
Nemesio de Lara also commented that there is a need to organize platforms and find national and international alliances that are contrary to the liberalization of plantation rights that can currently be discerned on the communitarian horizon, although this is of particular importance in Spain and Castilla-La Mancha. He also mentioned his concern in that pertaining to the alarming drop in domestic consumption of wine. "It doesn't make sense that the country with the greatest vineyard surface in the world is consuming less than a quarter part of what was consumed in the decade of the seventies," he asserted, then explaining that "the experts and institutions have to get down to work and eliminate these complexes that exist about wine."
He also reminded the audience that "the most dramatic drop in domestic consumption of wine has taken place in hotels, restaurants and cafeterias. The drop has not been quite as high in the homes." Is it not about time that we started to think about a national agreement in order to limit the deterrent sales prices that in some cases have been hiked in 300 or even 500%? De Lara asked himself.
In another order of things, after wagering on an increased concentration of the Spain brand offer, ensuring that the denominations of origin and geographic indications do not lose out in singularity, he affirmed that FENAVIN has been organized over the basis of the human component that is behind wine. "There are others backing FENAVIN, as is the case with Ángel Amador and Manuel Juliá, for whom I only have words of appreciation, but I would also like to thank the entire trade fair team and the provincial corporation for their collaboration. This along with the wineries and exhibitors, all the national and international buyers and the institutions and media groups that are collaborating," De Lara concluded.
Momentous Importance
When his turn came up, José María Barreda, President of Castilla-La Mancha, mentioned that the momentous importance of the vine and wine in the region is crystal clear, both from an economic point of view, as well as social and demographic. He highlighted cultivation of the vineyard from an environmental point of view, and showed himself to be in complete opposition, in like manner to De Lara, to the disappearance of plantation rights and to chaptalization (process of adding sugar to unfermented grape must to increase alcohol content).
Barreda also champions development of a comprehensive strategy to support the wine sector. He assured that a methodology will indeed be developed and it will turn into another example of what "governing with the whole of society" represents. He also mentioned actions such as doubling trellis fashion cultivation by the year 2020 or creating corporate organizations for wine and grape must products and of including Castilla-La Mancha's alcohol producing sector in the FOCAL program based on aids to promote agri-food quality in Castilla-La Mancha.
As he assured this morning at FENAVIN, what Barreda would like is for everybody to come together so that exporting can really be profitable. He also talked about creating an inter-professional association of wine in Castilla-La Mancha, a Wine Observatory and about starting-up a market information system. The objective he has marked out is to increase imports in such a way that they will represent seventy percent of production by the year 2020. "If we are the ones that produce the most, then we must also be the ones to sell the most. Hence, profitability of our products must be increased," he commented.
He also congratulated the Provincial Government's and FENAVIN's President, "because he was the one to come up with this fabulous idea of holding a great trade fair in Ciudad Real and now this idea has turned into a splendid reality." He also highlighted the fact that they have been capable of turning a great idea into a project, likewise congratulating all those involved in making the trade fair possible, "because it really does signify fabulous representation and good news for all of us."
The Mayor of Ciudad Real, Rosa Romero, also welcomed all those participating and visiting FENAVIN in the provincial capital's name. "They will discover a friendly, hospitable, joyful and boisterous city, which is recognized as a city where the quality of life is extraordinary. Please make sure to visit our monuments, squares and parks and take a good look at the establishments found all over the city where the delicious essence of Manchego gastronomy can be enjoyed in the company of our excellent wines," she pointed out.
Romero also specified that the wine sector is of paramount importance for the Spanish economy and a key factor in our region. She expressed her appreciation for the fact that a great trade fair on wine is taking place in Ciudad Real, because it has now, in its own right, turned into a city capable of hosting trade fairs and congresses of significance and importance, among other national and international events.
She has encouraged the buyers and exhibitors to take advantage of the trade fair to establish contacts and do business, although she also requested "that they not miss out on the opportunity of visiting Ciudad Real and becoming acquainted with its people, of enjoying a dynamic, vital city that is receiving its visitors with arms wide open."
On his part Manuel Juliá, FENAVIN's Director, was in charge of presenting the opening event. Among other things he commented that FENAVIN is an enormous bay of business "and we have fitted-out the scene in order to sell our products as easily and comfortably as possible." He also asserted that FENAVIN must build itself up from the perspective of the demand, "because what truly creates a product is the demand for the product."
Juliá also added that at FENAVIN "we are very clear on what we are doing, this from the President right down to the very last worker: business and image, as both are the pillars on which our success is built. Let's hope that everybody is satisfied with the profitability that is obtained."