"FENAVIN represents the World Cup in trade fairs on wine"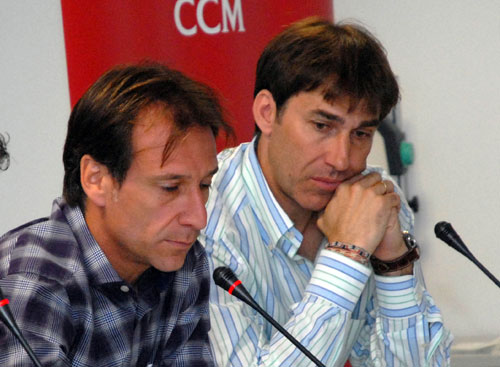 Juan Ignacio Gallardo, Assistant Director of the daily sports newspaper Marca, was in charge of coordinating a round table with very well known former sportsmen such as Rafael Martín Vázquez, Alfonso Pérez or Julio García de Mera, who all championed moderate consumption of wine at FENAVIN
10.05.2011 |
"FENAVIN is just like the World Cup in trade fairs on wine", Juan Ignacio Gallardo, Assistant Director of the daily sports newspaper Marca, categorically declared when talking about the National Trade Fair on Wine that is currently taking place in Ciudad Real and during which he has been in charge of coordinating a round table on "Wine and Sports." "The trade fair that has been organized here is truly impressive, apart from the tremendous support that this trade fair represents for Castilla-La Mancha's wine sector" he added.
In this sense, Rafael Martín Vázquez, who accompanied Gallardo at the round table, also highlighted the importance of FENAVIN for the wine business, as people from all over the world are coming in, to which we have to add that this sector could indeed create employment, which would be of great importance at this critical time."
During the celebration of this laid-back encounter with some of sports greatest personalities, some of whom have already retired as is the case with Martín Vázquez, mentioned above, or Alfonso Pérez or the "legendary Spanish indoor soccer player, Julio García de Mera, the best kept secret of our elite sportsmen who have reaped in so many triumphs in the last few years was revealed: that they partake of a glass or two of wine with lunch before any important sports event, as it is clinically proven that it is very healthy.
The idea has been to cover all that wine and sports have in common. "Wine and sports form quite a normal marriage," Gallardo commented, and this can be proven in the fact that "first rate figures of the world of sports continue to have a relationship with the world of wine after their retirement."
Wine as a social event
This is the case of both Rafa Martín Vázquez and Alfonso Pérez, two of the greatest former football players, who now form part of a project that is directed by Manuel Sánchis, former Real Madrid football player. The same who once retired decided to uphold the values of comradeship and friendship by way of wine, hence founding a winery in Ciudad Real and inviting his friends to participate in it. Bodegas Casalobos is located in the municipal term of the Ciudad Real town of Picón and it currently counts with partners from the world of sports of the stature of Emilio Butragueño, Michel or Aitor Karanka.
Both Martín Vázquez and Alfonso Pérez highlighted the social aspect of wine, while Alfonso also pointed out that what he used to do, that is enjoy a glass of wine because it was healthy and beneficial for him when he was practicing sports, has now turned into a hobby, so to say. In addition, Martín Vazquez asserts that in his opinion wine is a food product and he is unable to conceive a social event without a good glass of wine. To which he added that it was precisely through the practice of sports that he became familiar with the world of wine. "It is clinically proven that wine in moderation is very healthy, in particular for sportsmen and sportswomen."
All of the participants at the round table coincided on how important it is to teach our younger generation to appreciate this drink and that it is linked with persons who lead a healthy lifestyle, although always consumed in moderation.
Continuing along this line, Julio García de Mera underscored the importance of accompanying a good meal with a good wine, "as it is fundamental and despite the progress made, quite a few taboos in this sense must still be overcome."
The Commercial Director of the CCM Bank, Bernardino Fernández, who is also responsible for sponsoring the activity, likewise participated in the round table, as was the case with Ignacio de Miguel, enologist for Casalobos.