At Fenavin this year David Seijas, Sommelier at El Bulli, requested "a bit more of unpretentiousness of the sector, and cheaper wines"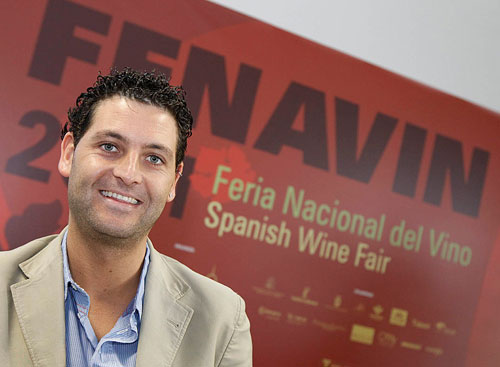 The winner of the 'Nariz de Oro 2006' (2006 Golden Nose) explained how Ferrán Adriá's restaurant works, restaurant that will be closing on the upcoming July 30th and where 10,000 bottles of wine are served on an annual basis
10.05.2011 |
David Seijas, Sommelier at El Bulli gave rise to much expectation at FENAVIN, where he requested a bit more of unpretentiousness of the sector in order to increase consumption of wine in our country. Taking advantage of his weekly day off from work, Seijas explained that he shares the work of sommelier at the restaurant with Ferrán Centelles and that they serve 10,000 bottles of wine a year to their 6000 diners, this in the restaurant that is set to close its doors on the upcoming July 30th.
"I truly believe that we have gone overboard in the last few years with abusively high prices, which means that both the wineries and restaurants should adapt to the times and make cheaper products if we really want to increase domestic consumption of wine", he said just moments before sharing his points of view with the audience in the chat he imparted on "techniques and work methods with other professionals",. This has always been Ferrán Adriá's philosophy, assured the young sommelier, who started working in the restaurant ten years ago as a kitchen assistant and who in this period has traveled a long trajectory of personal and professional growth, obtaining different recognitions such as the 2006 Golden Nose.
This will to share knowledge with other professionals, "in such a way that everybody will know how to adapt the advances that take place in their restaurants and bars, depending on their possibilities". This is precisely what has drawn the attention of those attending the chat, in which he explained his work methods. Methods that are guided by a sole objective: "To make the customer happy and adapt to his or her wishes," making it quite clear that "if we have the very best raw material to be found, the best wine producing techniques and the best service," none of it suffices unless "we have a customer that at least tries to appreciate the wine."
Seijas talked about "the importance, for example, that we give to the types of wine glasses, of which we have fifty-five, or the wine decanter, of which we use six, which is also a way of giving value to the effort made by the producer when a good wine results." He also highlighted the importance of temperature as a key factor, "although, in this matter, we must not forget that the customer is always right."
These are only examples -he assured- because in the restaurateur world the dining room is always the last thing and the truth of the matter is that very special and creative things can actually be done, reason why I believe that all professionals from this sector will love seeing how far the world of service can really go."
El Bulli has a cellar management program with 1600 references
During his chat he regaled the audience with interesting details of his daily work at El Bulli, where they have a cellar management program that currently holds 1600 references, "although we have had up to 25,000 bottles in stock; but now, since we are foreseeing closing the restaurant in July, we have actually reduced this stock."
He is quite aware that "it is impossible for a normal restaurant to use this system, because we know that our situation is special and a lot of time is necessary in order to use this program, as all the data has to be painstakingly entered and, we do in fact have this time available," he affirms. "Although there is no reason why we shouldn't see the program and get ideas from it."
The result of this carefully pampered work, thanks to which it is possible to enter the tastes of all the diners and follow-up on the same, renders information such as that 65% of the wines consumed at El Bulli are white and sparkling wines. "Versatile wines that adapt beautifully to all our light, refreshing proposals," Seijas affirms, also explaining that more red wines have been ordered in this past winter season.
As a curiosity and given that FENAVIN is located smack in the heart of La Mancha, he assures that the wines from this region are "of course" included in the restaurant's wine list, of which 45% of the wine references correspond to the rest of the world.
When asked about how low consumption of wine currently is, he showed his concern and indicated "the abusive prices of some wines that are made by people that have nothing to do with the sector and that want to have their own wine, a product that they soon forget about the moment any little problem arises." In his opinion, the only way to turn this situation around is by really pampering wines in the restaurant world, apart from logically promoting its consumption at home.
"FENAVIN is a very serious trade fair that I will certainly take advantage of in order to try many wines"
Attracted as he is by Burgundy wines, "of which both the red and white wines are selling beautifully at El Bulli," he mentioned that lately he is also interested in the wines made in the north, in particular in the Atlantic ocean region, Galicia, El Bierzo, as they are far more refreshing wines."
With the restaurant about to close, at least with this internationally recognized format, and completely immersed in the process of creating the groundwork for the new project, El Bulli Foundation, Seijas is also preparing his third wine guide, '1112 Wines for 2012', a project for which he will take advantage of his stay in FENAVIN, "in order to try absolutely everything I can, in particular La Mancha wines, of which I have a very good impression."
In as far as his opinion of the trade fair is concerned, he considers that "it is a very serious trade fair, in which the professional holds a very important role and where it is possible to obtain maximum profit from visiting it," he ended up saying.

INFORMATION ABOUT BULLIVI

The figures that Seijas mentioned in his chat give us an idea of the volume that is being moved:
More than 55 types of different wine glasses
600 glasses of wine in movement on a daily basis in the restaurant
6 types of decanters
1600 references in the wine list
325 denominations of origin
216 grape varieties
700 different producers of wine
10,000 bottles opened every season
1.5 bottles per customer a day
40 different harvest years
2 ageing cellars
and four sommeliers per service