The wine-producing sector will indeed be benefited with the reduction of greenhouse effect gas emissions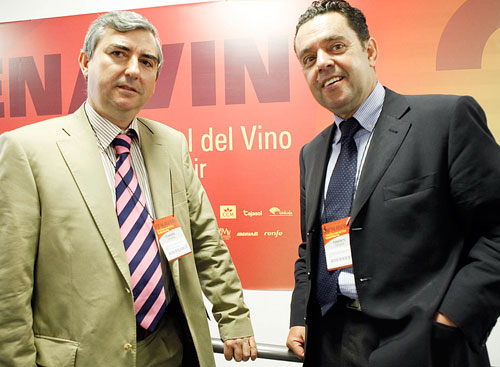 Sánchez Brunete and López-Cortijo have been talking at FENAVIN about the strategies involved to minimize the carbon footprint
10.05.2011 |
To reduce greenhouse effect emissions by calculating the carbon footprint in the wine producing sector has been one of the themes on which the experts in this matter have focused on. Manuel Sánchez-Brunete, vine grower and Director of Agri-Food Projects for the international consultancy firm INCLAMCO2 and Alejandro López-Cortijo, Director of IIMA, consultancy firm dedicated to the Climate Change and the Environment, have both participated in this event that has been held at the 6th edition of Fenavin, which is taking place these days in Ciudad Real.
Based on their respective specialties, both have referred to the analysis of the carbon footprint in its application to wine production. The same as an indicator of added value for all products derived from the same, which also means a cost saving policy and energetic benefits, apart from a reduction of the greenhouse effect gases, hence contributing to improving the climate change. Also, according to that mentioned by these two experts, its application will allow wineries to gain market shares and differentiate themselves from the competition.
On the other hand, they have also mentioned that its application in Spain is on a voluntary basis, for the time being. Although the important distribution chains are developing formulas to commercialize organic wines and Private Labels that are committed with the cause and that, in the near future, could limit presence of Spanish wines in those markets that do not comply with the environmental standards that are being exacted.