"The corporate culture is now part of FENAVIN as well, and that is something that credits the trade fair"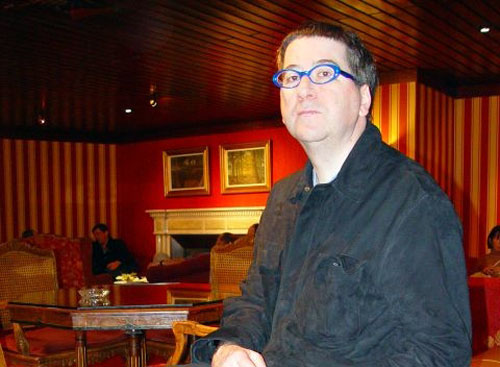 The well-known poet and Madrid born writer Luis Antonio de Villena will be in charge of coordinating the round table 'Wine: Sensuality and Mysticism' that will be hosted on May 10th at FENAVIN, with Ana Rosetti, Clara Janés and Jaime Siles also participating in the same
08.05.2011 |
At FENAVIN, which will be taking place from May 10th to the 12th, outstanding poets and writers of today's literature will be talking about sensuality and the mysticism of wine at a round table that promises to be of great interest, including as it will their points of view on the union between poetry and wine in Mediterranean and European culture ever since the Greco-Roman world.
The poet and writer Luis Antonio de Villena, who will be accompanied by the poets Ana Rosetti and Clara Janés and by the professor and poet Jaime Siles, will coordinate the literary encounter. The event will take place at FENAVIN on the upcoming Tuesday, May 10th at 12.00 p.m. in Lecture Hall 3 of the trade fair pavilion. Just days before the encounter, the Madrid born poet left us with the following reflections on the round table and on pairing of wine with poetry.
How do you define the sensuality and mysticism of wine, which in this case is the object of the round table?
Wine is a constant element of poetry, and the virtues of wine have been hailed as a path to pleasure and spirituality, apart from the fact that many educated meetings or encounters, in particular in ancient times, took place in the shape of evening banquets at which wine was certainly enjoyed. It is true though that wine in both Greece and Rome was watered down, although it was still wine. The encounters were celebrated with wine and poetry enhanced them in two different ways: as a path towards pleasure, as delightful ecstasy, while on the other hand and in the Islamic world, in particular, it was used as a symbol of spirituality, as the mystic would somehow feel differently, inebriated so to say, logically understood in a symbolic way.
In your opinion, what has wine represented for the poetry of all times?
Well, wine in the western world you mean, because in the Asian culture wine is made from rice, although it is possible that it holds a similar role. Man has somehow always needed something to help him reach an elevated mental or spiritual state. Wine is one of the milder ways of elevating the state of consciousness somewhat, making it a bit sharper, as long as one does not partake of it in excess. Wine is enjoyed as a spirit, as something that elevates awareness without canceling it out, as the contrary would be getting sloshed in a bad way, like the drunkard who trips all over the place or falls asleep in a drunken stupor. So, in the cultures of all countries wine has always been of great importance, be this western wine made with grapes or eastern wine made with rice.
The poetry recital 'Baco's Garden' that took place during the past edition of Fenavin has enjoyed much success in forums such as the trade fair; however, poetry is not fully introduced in the more corporate part of the wine world. So, do you think it is necessary and recommendable to get into these activities in greater depth due to the lack of knowledge?
We have a serious problem in Spain with the matter of culture, and not only in the corporate part of the world of wine, but in the entire corporate sector, which tends to be quite removed from culture. We are one of the most uncultured or ignorant countries in Europe, ranking at number thirty-five, which unusually enough does not embarrass us and I have no idea why not, because we really should be ashamed of this position considering the great tradition that our country has. Spain has always been a producer of culture, however, it is a terrible consumer of culture. Culture is practically non-existent in most parts, even in politics. Politicians barely talk about this problem, to the point that they are actually setting a bad example. This is one of Spain's great evils. Well, at least there is someone at FENAVIN (referring to the Director of the trade fair, Manuel Juliá) who has tried to make sure that there will be cultural presence at the trade fair, and this should be a standard of reference so that the rest of the country's industry will also include these types of activities. In the world of construction for example, we can actually talk about the art of architecture, as it really is a matter of determination, of finding someone to make a breakthrough; at FENAVIN this has been done, and it is something that should make them proud.

The experts say that there is no such thing as a bad wine in Spain. Is this also true about bad poetry in that pertaining to wine?
Well I am sure there is a bit of everything, although what is important is not whether there is bad poetry or not, but the fact that the poetry that does exist is actually very good. They say that there is no such thing as bad wine in Spain, yet the truth of the matter is that the work carried out with wine in Spain has certainly not been good. I was born in Madrid and I remember that when I was small Valdepeñas was the wine that taverns were selling, in bulk, and it was considered a bad wine, because it was not very elaborate, it was sold straight from the jug, in bulk fashion, without labels or anything. Fortunately, things have changed quite a bit and now winemakers have acquired a lot of knowledge and the culture of wine in Spain has really improved. We used to have a good natural product, but with a manufacturing industry that was not quite up to par; now, production has improved drastically, although if compared with France's tradition there is still a lot of work to be done. Notwithstanding, we do seem to be on the right track.
In like manner to the cultural and poetic qualities of wine, do you also have praise for wine's more physical properties? Do you usually consume wine?
I am a moderate consumer of wine. I enjoy it with lunch or dinner, but I almost never drink wine when I am alone, because then I do not find it quite so attractive. I belong to a family in which wine has always been a staple and I have personally been drinking wine since I was a teenager. I am actually quite against this politically correct idea of not giving children wine to drink, something that, in fact, I consider to be rather silly, as I believe that children should be given wine to drink, in small amounts of course. I was given wine to drink as of the age of twelve and nothing has ever happened to me nor have I ever gotten drunk, in fact quite the contrary. My grandfather died at the ripe old age of ninety-two and he had a glass of wine every single day. Wine is very good if you have three glasses for example. It is simply a question of keeping within a limit, of knowing how to control it, but that is up to each person and the State should certainly have no say in the matter of how many glasses of wine we should enjoy, as it is a matter of the individual's personal freedom. We should recommend, but never forbid, because in moderation wine is very good and healthy.
With whom would you enjoy or with what would you pair a glass of wine?
With a meal enjoyed with friends, with just a few friends, in an encounter with just a few people, with good food and a good wine. I personally prefer white wines. This is one of those silly things of mine, because I am quite aware that in general red wines are much better, but, what can I say, I prefer white wines.
Which of these opinions do you champion and which of them do you think should be transmitted to society so that consumption of wine will be decriminalized?
Well, the fact that wine consumed in moderation is very healthy and also, that it forms part of western culture. If we remove wine from western culture, an enormous part of it would simply disappear, not only poetry, but art as well, as there are many paintings and works of art in which we can see people drinking a glass of wine, and this is also the case with other forms of art. Ever since the Greco-Roman world wine has formed part of our Mediterranean culture. Just remember those ancient Greek amphorae used to transport wine in ships and on top of this it is a healthy product, as long as it is reasonably consumed, as they say nowadays. I also want to add my own personal touch, which is that when wine is consumed with food, it creates what "drinkers" call sediment in the stomach, and therefore, one can actually drink four or five glasses of wine and still feel perfectly fine afterwards. However, if one drinks four or five glasses of wine on an empty stomach, well the result is that one ends up getting drunk.