David Seijas, Sommelier for El Bulli, will be sharing some of the secrets of the wine cellar of this factory of flavors with the professionals at FENAVIN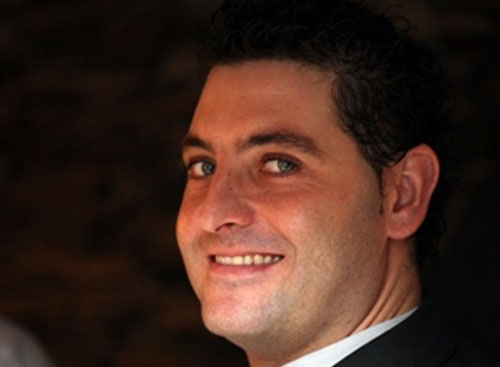 David Seijas will be offering the conference "El bullivi" on the same day that FENAVIN is set to open its doors, May 10th, with his intention being to demonstrate that important and creative things can be done further beyond the kitchen
08.05.2011 |
The sommelier David Seijas, the alchemist in charge of finding the perfect pairing of wine for the proposals designed by El Bulli's team at each table, has the intention of revealing at FENAVIN some of the secrets of the wine cellar of this veritable factory of textures and flavors.
"To share techniques and work methods with other professionals has always been Ferrán Adriá's philosophy", assures this young sommelier, who started working at the restaurant ten years ago as a kitchen assistant and who during this time has traveled far and beyond in personal and professional growth, obtaining diverse recognitions, such as the 'Nariz de Oro 2006' (2006 Golden Nose Award).
This will to share knowledge with other professionals, "in such a way that everybody will know how to adapt the advances that take place in their restaurants and bars, depending on their possibilities", is what has given rise to the conference that will be imparted by Seijas on May 10th at 11.00 a.m.. The same in which he will be explaining "for example, the importance that we give to the types of wine glasses, of which we have fifty-five, or the wine decanter, of which we use six… These are only examples -he assures-, because in the restaurateur world the role of the dining room is always in the background and the truth of the matter is that very special and creative things can actually be done. Thus reason why I believe that all professionals from this sector will love seeing how far the world of service can really go."

El Bulli has a cellar management program with 1800 references
During his chat he will be regaling the audience with interesting details of his daily work at El Bulli, where he has a cellar management program that currently holds 1800 references, "although we have had up to 25,000 bottles in stock; but now, since we are foreseeing closing the restaurant in July, we have actually reduced this stock."
He is quite aware that "it is impossible for a normal restaurant to use this system, because we know that our situation is special and a lot of time is necessary in order to use this program, as all the data has to be painstakingly entered and, we do in fact have this time available," he affirms, "although there is no reason why we shouldn't see the program and get ideas from it."
The result of this carefully pampered work, thanks to which it is possible to enter the tastes of all the diners and follow-up on the same, renders information such as that 65% of the wines consumed at El Bulli are white and sparkling wines. Thus being "versatile wines that adapt beautifully to all our light and refreshing proposals," Seijas affirms, also explaining that more red wines have been ordered in this past winter season.
As a curiosity and given that FENAVIN is located smack in the heart of La Mancha, he assures that the wines from this region are "of course" included in the restaurant's wine list, of which 45% of the wine references correspond to the rest of the world.
When asked about how low consumption of wine currently is, he acknowledges that the situation experienced at El Bulli has nothing to do with reality, because it is always fully booked, with endless waiting lists, although this doesn't mean that he isn't concerned about the situation. A situation that is a result of "the abusive prices of some wines that are made by people that have nothing to do with the sector and that want to have their own wine, a product that they soon forget about the moment any little problem arises." In his opinion, the only way to turn this situation around is by really pampering wines in the restaurant world, apart from logically promoting its consumption at home.

"FENAVIN is a very serious trade fair that I will certainly take advantage of in order to try many wines"
With the restaurant about to close, at least with this internationally recognized format, and completely immersed in the process of creating the groundwork for the new project, El Bulli Foundation, Seijas is also preparing his third wine guide, '112 vinos para 2012' (112 Wines for 2012), a project for which he will take advantage of his stay in FENAVIN, "in order to try absolutely everything I can, in particular La Mancha wines, of which I have a very good impression."
In as far as his opinion of the trade fair is concerned, he assures that he has "very good references from friends", and his opinion is that "it is a very serious trade fair, in which the professional holds a very important role and where it is possible to obtain maximum profit from visiting it," he declared.