"Not all consumers are concerned about the territorial origin of a wine, buying the wine as they do in accordance to the variety or brand, which means that the possibility of them looking for a specific region on the label is actually quite remote"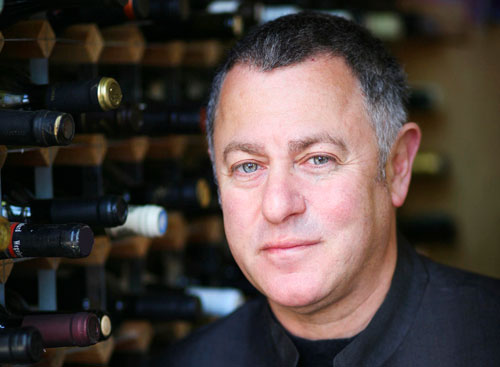 Robert Joseph, one of the fifty most influential personalities in the world of international wine, according to the prestigious, specialized British magazine Decanter, will be offering a conference at FENAVIN on the upcoming May 12th.
26.04.2011 |
The opinions of Robert Joseph, wine analyst, consultant and writer, will undoubtedly be of great inspiration to the wine producers and consumer motivators who will be attending the conference that will be offered at FENAVIN on the upcoming May 12th: The Great Enigma: What Wines Seduce the Consumer in the World?
Although Robert Joseph, considered to be one of the fifty most influential personalities in the world of wine according to the prestigious British magazine Decanter and Editor-at-Large of the Wine Business International, prefers to not reveal the keys to the tastes of wine consumers throughout the world during this previous interview, he does indeed mention the importance of that which "is different", individual freedom, that is, freedom to choose a wine and that women are starting to hold an increasingly more important role as buyers.
Question. During your conference you will be offering the keys in order to know the tastes of consumers in the world. Please, don't reveal them now, but do these tastes have any traits in common?
Answer. Different countries naturally have different cultures and tastes, but there are common trends. People in Barcelona, Boston and Beijing watch the same blockbuster movies, eat Häagen Dazs ice-cream, drink Starbucks coffee, and shop at Ikea, Gap and Zara… The wine industry would like to imagine that it is immune from these trends but it is not. Globally there is a move towards polarization of both price and quality: value versus super-premium. The mid market, in any field, from clothing to airlines and hotels is not a comfortable place to be. One problem is that cheaper products are not sufficiently "bad", so even wealthy people are prepared to fly on budget airlines and buy "basic" clothing, while people of more moderate means aspire to wear fashionable trainers…
There are two other huge changes. First, there is individual freedom. While some people still follow fashion or convention, it is now socially acceptable to be different: not to eat meat, to drink red wine with fish, to only wear red… And second, there is the rise in the importance of women as buyers. Women have different sets of priorities to men. They are less concerned with status and more interested in creating an ideal of some kind for themselves and those around them. In wine, men look for status-related "qualities" such as vintage, medals, ratings, and denominations… Women are more likely to look for factors that reassure them about the quality and style of what they are going to get. It is arguable the female influence that is helping to drive the move towards a greater trust in personal recommendation than marks from critics.
Q. Given your knowledge, we understand that you have a global overview in as far as tastes for wines are concerned, so, what differentiates Spanish wines from those in the rest of the world?
A. Obviously, the superficial answer lies in the grape varieties - principally Tempranillo and Albariño - and the traditional use of oak. I think that now there is a spirit of innovation, especially in regions like Castilla - La Mancha, which is helping to create unique styles that are not on offer elsewhere.
Q. In your opinion is it better to offer a common image of Spanish wine or a differentiated one according to each wine producing area?
A. How many sophisticated wine drinkers in Madrid or Barcelona could say where in the world wines with Maipo and Maipu on their labels comes from, or the difference between Reuilly and Rully? Regional denominations - until they achieve the kind of critical mass enjoyed by Rioja, Bordeaux and Chianti are interesting and valuable for a small number of wine enthusiasts. Many consumers - a growing number - do not even care which country a wine comes from; they buy a grape variety or a brand, so the chances of them looking for a region are very, very small. So the answer to your question is that, while a denomination - like a grape variety - may be a useful guide to the style of your wine, its commercial value will depend on the price of your bottle, the volume you produce, and the reputation you, and or others have already created for the region. René Barbier, Alvaro Palacios, Josep Lluís Pérez of Mas Martinet and Dafne Glorian collectively helped to make Priorat famous, so there is a value to any other producer placing Priorat on their label. The same could not yet be said for Montsant, for instance.
Q. What Spanish wine would you choose to enjoy with a good Spanish paella?
A. If we are talking about for instance Castilla-La Mancha, my favourite wine from the region at the moment is Dominio de Valdepusa Summa Varietalis 2005, but I think it may be a bit too big for a paella. Maybe a simpler wine like Los Vividores Tempranillo 2008 from the designation of origin La Mancha, would be better.
Q. In your opinion, who is winning the game in that pertaining to selling wine in the world? Who has the best image? What are the reasons for this?
A. This is a very hard question. The image of any country varies from market to market. France is still number one - by a long way - in China, thanks to the image of Bordeaux, but it has lost some of its image in the UK, where most ordinary consumers have little interest in, or taste for Bordeaux. Spain is also weaker in the UK where it is unfortunately still associated with cheap wines drunk on holiday, than in the US where there is a strong appreciation of its super premium wines. And Australia is having a difficult time at the moment, but it is still a phenomenally strong exporter across a wide range of markets, thanks to the strength of its brands and the variety of its wines.
Q. Have you visited FENAVIN before? What do you know about the Trade Fair?
A. Yes, I have been to Fenavin a few years ago - very briefly - and it seems to be a very interesting fair for anyone who wants to explore Spanish wine.