"The idea behind our awards is to create a favorable atmosphere of rapprochement between society and the wine sector of Castilla-La Mancha"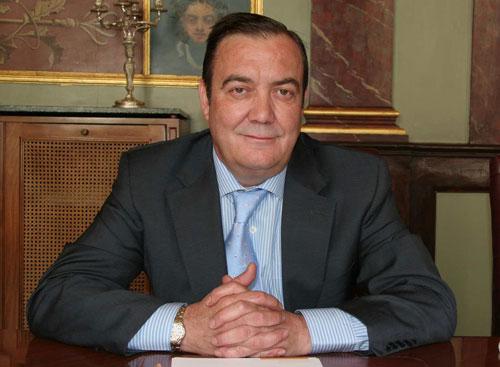 This is how convincingly Rafael Puyó, Secretary General of AEMZU and ASEVICAMAN, association that is hosting the first 'Racimo de Plata' (Silver Grape Cluster) Award Ceremony, has expressed himself about the awards.
26.04.2011 |
The 2011 edition of FENAVIN, to be held in Ciudad Real from May 10th to the 12th, is the setting that the Regional Association of Wine Producing Companies of Castilla-La Mancha (ASEVICAMAN) has chosen to host the new 'Racimo de Plata' Awards, which are aimed at "propitiating a climate of rapprochement between society and Castilla-La Mancha's wine sector," explained its Secretary General, Rafael Puyó, who is of the opinion that promoting the epicurean values of wine is increasingly more necessary, far and beyond that of the academicians, summarizing his idea under the truism: "If you like the wine and you feel pleasure when you drink it, well then there is no need to know anything else about it."
Hence the ASEVICAMAN 'Racimo de Plata' Awards saw the light with the goal of "promoting a social encounter between the wine producing culture and a relevant figure that can promote the values of all Castellano-Manchego wine products without exception, that is, of wines in all their versions, of grape musts and grape juices and of wine vinegars and balsamic vinegars," Puyó explains.
In the opinion of the Secretary General of the ASEVICAMAN, of the Spanish Association of Grape Must and Grape Juice Companies (AEMZU) and of this same association at a regional level in Castilla-La Mancha, society in general must acquire knowledge of the wine world, learning to understand that this world is not just for experts and connoisseurs, as it is a sector that actually forms part of society and this is how it should really be interpreted, without of course forgetting that wine is considered a food product by both the national and international regulations. "Wine must be demystified and turned into what the law actually preaches: a natural element", and "the status of the Mediterranean Diet as an Intangible Cultural Heritage should be extended even more."
In this sense Rafael Puyó underlines the fact that the associations that they belong to are also affiliated to the 'Wine in Moderation' project, which promotes responsible and moderate consumption of wine. "And I would add tempting, intelligent food to these two adjectives," the Secretary General adds.
ASEVICAMAN's Steering Board Meeting
Prior to the 'Racimo de Plata' Award Ceremony, ASEVICAMAN will be holding its annual Steering Board Meeting, as it has already done in previous editions of FENAVIN, with its President, Miguel Ángel Valentín, chairing the meeting along with executives from the affiliated companies "Félix Solís S.A.", "J. García Carrión S.A.", etc., among others.