The writer José López Martínez will be reflecting on the importance of wine in the history of humanity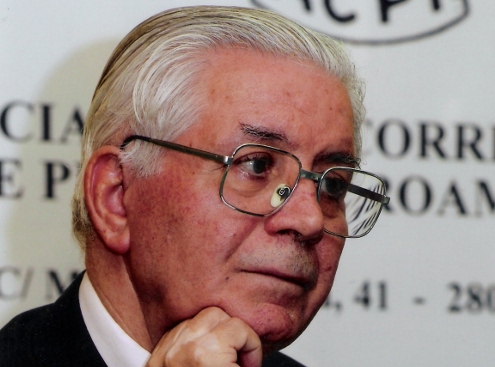 The expert and great connoisseur of this region and of its wines will be introducing those participating at FENAVIN in a passionate world of nuances, of social and historical peculiarities in which wine has always been present
12.04.2011 |
The writer, poet, journalist and literary reviewer José López Martínez will be offering an interesting and rigorous overview of wine in the history of humanity and in particular in Spain and Hispanic America and its establishment in societies of all times, this at FENAVIN, which is to be held from May 10th to the 12th. José López Martínez, who is also the Director General of the Spanish Association of Writers and Artists, will be reflecting on wine in the beaux arts, in particular covering the world of essays, the novel and poetry, apart from covering the sociology of wine, its link with the different social classes and the driving force supporting the national and regional economies, something that is of particular importance in Castilla-La Mancha.
During the conference 'Vino y sociedad' (Wine and Society), set to take place on May 10th at 5:00 p.m., the writer from Tomelloso, vine growing focal point par excellence, will be mentioning the charisma that wine is branding on the Spanish society, covering its entire range of nuances and peculiarities, or in other words "the devotions and misfortunes" that it has shared with the citizens in its most celebrated historical events, because as he points out "wine has always kept up with civilization, in all times and under all circumstances, hence the tremendous praise that it has accumulated".
Among the anecdotes and curiosities that the poet will be putting forward, will be the prohibition of drinking wine that women endured in ancient times, "be this due to matters of economy or for the husbands' own peace of mind, although, in the times of Marco Porcio Caton absolutely everybody was allowed to drink wine, even the servants". He will also look back and unveil Spain's viniculture origins, highlighting Andalusia, where the Turdetans already harvested grapes 600 years before the birth of Christ, explaining that "their love of the product they produced in their cellars was such that they actually poured it into silver goblets", the writer mentioned.
In short, López Martínez considers that the culture of wine, in a certain way, has provided "consistence and style to the Spanish society", because prior to the existence of the political structure of the autonomies, other "democratic wine regions" already existed, "as is the case with the personality of Ribeiro wine, or that of the white wines, fortified wines and oloroso wines of Santander, matured in Torrelavega and Cabezón de la Sal; or as in the Navarre wines of Corella and Los Arcos; the Aragonese wines of Cariñena and the wines of Castilla-La Mancha, "the sires of so many other wines that have circulated around our geography with other names".
In that pertaining to FENAVIN, López Martínez, who is also a Correspondent for different Ibero-American media groups, understands that this trade fair is truly opportune in as far as the urgency that the wine industry is in need of, in particular during these difficult times of crisis. He points out that "it has been more than demonstrated that its repercussion on the national scope has been of paramount importance".
José López Martínez is a neophyte at FENAVIN, but he is certainly no newcomer to the world of wine, because thanks to his roots he has been a great connoisseur of the wine world since he was a young boy (his family produced 5000 arrobas (a unit of measurement) of wine made with grapes from their own vines) and he has always defended quality and good wine, even if such an amount was not being produced. Proud of his origins in Tomelloso, he continues to enjoy fabulous relationships with his childhood friends, as is the case with the painter Antonio López.
López Martínez (Tomelloso, 1931) is a writer, poet, journalist and literary reviewer. He has lived in Madrid since 1955, fully dedicated to the world of literature and journalism. He is editor of the Mexican newspaper "El Informador", collaborator in cultural programs for Radio Nacional de España and for the magazines "Mundo Hispánico" and "La Estafeta Literaria". He is the Vice President of the Ibero-American Press Association and Director General of the Spanish Association of Writers and Artists.
He is the author of about twenty books and laureate of numerous awards in journalism, poetry and fiction. He has been recently appointed "Honoris Causa" Professor of the Royal College of Saint Luke, in Germany, one of the oldest and most prestigious academic institutions of Europe. He is also member of the Steering Board and Co-Founder of the Association of Writers of Castilla-La Mancha, where he also held the position of Vice President. To be highlighted among his published books, about one per year, are titles such as En el mar riguroso de la muerte (In the Rigorous Sea of Death) (Rabindranath Tagore Award), Lugares de La Mancha (Places of La Mancha) (declared of National Tourist Interest). He has just recently published Memoria de nuestros clásicos (Report on our Classics) with Ediciones Vitruvio Publishing House and an edition of his complete short stories is already underway.