The Alonso Quijano School of Writers will assure enjoyment of two original and innovative uses for wine in culture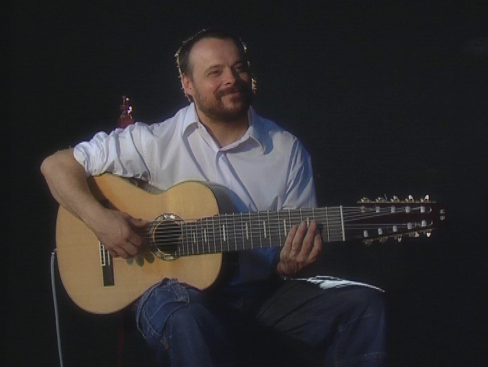 Guillermo Burgos is a guitarist, composer and luthier
The luthier (musical instrument maker) and composer Guillermo Burgos will be regaling a wine tasting session at FENAVIN with his guitar, while Carmela Fischer will be showing us how to use wine as ink and a source of inspiration in writing and in plastic arts expression
09.04.2011 |
For the very first time the Alonso Quijano School of Writers from Alcázar de San Juan will be participating at the National Trade Fair on Wine (FENAVIN), which is to be held on the dates of May 10th to the 12th and its participation will involve two interesting and original cultural wagers that to date have been completely unknown within the frame of the trade fair. One of the events will involve Guillermo Burgos, luthier and composer, who on this very special occasion will be guiding us through a wine tasting session with his guitar, while Paloma Mayordomo, teacher at the Alonso Quijano School of Writers, will be showing us how to use wine as ink in two different creations, one artistic and the other literary.
Mayordomo explained that both workshops represent pioneer experiences in which there has been a research process with a sole objective, "to surprise at FENAVIN". The idea is to turn wine into a tool, into a vehicle that will impregnate the audience, accustomed as it is to evaluating wine by way of smell and taste, with new and unknown sensations, adding a creative touch through the world of painting and literature.
Mayordomo acknowledged the "incredible" space that is dedicated to viticulture at the Trade Fair, which in her opinion is boosted increasingly more all the time by the vital need to know and spread the history and art of the people. In the opinion of the Director of the School of Writers, culture has always been linked to wine as a source of poetic inspiration for philosophers, writers, filmmakers and a never-ending etcetera, therefore, apart from commerce and the business of wine, culture "is the essential embellishment at FENAVIN, and it is literally impossible to obtain a better level of communion", she underlined.
The School of Writers has organized the workshops 'El arte de fluir, el vino como experiencia estética' (The Art of Flowing, Wine as an Aesthetic Experience) and 'Guitarra y vino: savias de la naturaleza, placeres que se acompañan' (Guitar and Wine: The Saps of Nature, Pleasures that are Accompanied), imparted under the responsibility of the Bachelor of Arts and Literary Adviser Carmela Fischer and the Composer and Luthier Guillermo Burgos, respectively. According to that explained by Fischer, the idea is to approach the world of wine from another point of view, working with wine as matter, "broadening our possibilities of relationship with wine through plastic arts expression and writing". In this workshop the starring role will be held by wine, which will be used as ink to elaborate an intuitive, gestural painting; apart from representing a literary element and a source of inspiration in order to compose a poem or a narration.
Pairing Between Wine and Music
On the other hand, the idea behind the guitar concert has been to find the "perfect pairing between wine and music", in such a way that Burgos will be interpreting different rhythms for each type of wine that will be tasted, and this with a special 12-string guitar. Thus, according to that acknowledged by his colleague at the School, the ideal music for a Crianza wine is the Tango, "as it is full-bodied, it is passionate, dense music", while a young white wine, a verdejo, will be paired with Brazilian music, with Bossa Nova, and a red young signature wine is set to be paired with Jazz. As commented by Fischer, this is the same as a massage that is given with relaxing music, candles and an appropriate ambience, "as it elevates the senses even more and different sensations are obtained". The experience, Fischer added, "is unique because both elements, music and wine, have a plant soul and they both produce pleasure and joy".
Both workshops will be taking place on May 10th in the FENAVIN Area 1, Gastronomic Sessions, with 'El arte de fluir' set to start at 4:00 p.m. and the 'Guitarra y vino' Concert at 6:00 p.m. There will be a maximum of 20 participants in each workshop, all of whom will be over the age of 18. All material to be used will be provided by the School of Writers.
Carmela Fischer is a Bachelor of Arts by the University of Buenos Aires. She has worked as a literary adviser, anthologist, literary reviewer and theatrical direction assistant. She has been imparting creative writing workshops for adults in Spain and abroad for fifteen years now. She has formed part of the Evaluation Committee of the Library of Manchego Writers pertaining to the Ciudad Real Provincial Government. Guillermo Burgos is a guitarist, composer and luthier. As a soloist he has worked as a composer in the world of film and theatre and as a luthier he has built and repaired string instruments and he is also a member of the American Guild of Luthieres.
Both form part of the Alonso Quijano School of Writers in Alcázar, which is a pioneer project in Castilla-La Mancha. Located, since the year 2003, in the magnificent monument of the Santa Clara Convent, the School is a national standard of reference with 300 students and more than 600 registrations. To be highlighted amongst its illustrious professors and members are distinguished poets and writers such as Dionisio Cañas, José Corredor Matheos, Luis Mateo Díez, José María Merino, Francisco Gómez Porro, Caballero Bonald, etc.