Catalan wineries have fully committed to FENAVIN 2011, which they define as a "national standard of reference" and a practical and approachable trade fair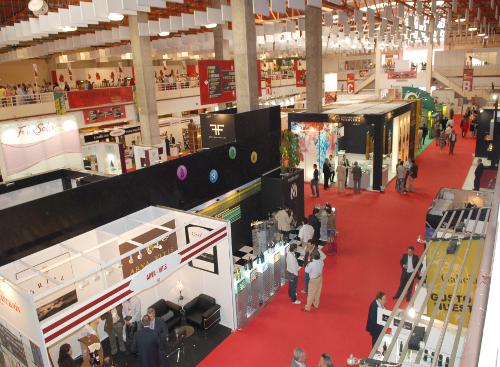 FENAVIN 2009 recorded intense commercial activity
More than 60 wineries from the four Catalan provinces will be taking advantage of the business opportunities to be found at the National Trade Fair on Wine
23.02.2011 |
Wineries representing all the Catalan Designations of Origin at FENAVIN have been a regular feature at the last two editions, although it is true that on this occasion, with the more than sixty producers that will be coming in, Catalonia will be one of the strongest wine producing areas that will be attending this sixth edition, edition that as pointed out by all the wineries that have been interviewed, represents a "national standard of reference and a practical, comfortable and approachable trade fair".
In the opinion of Nemesio de Lara, President of the Trade Fair, "an increase in the participation of wineries from Catalonia is indeed beneficial for Castilla-La Mancha, as this improves the offer of a Trade Fair that is set to create a propitious scenario for the wine business in Ciudad Real, the same on the upcoming dates of May 10th to the 12th". In his opinion, "as I have always underlined, this is confirmation of very professional work being done and obviously this is working for the wineries that have firmly committed to coming to this trade fair when huge monsters such as Alimentaria are just around the corner".
Carlos Mora, Director of the Lerida based winery Tomás Cusiné, also assures that "at an international level, FENAVIN has turned into a standard of reference on Spanish wine and we never have any doubts about coming in, even though Vinexpo in Bordeaux is also on our agenda".
The purely exporter nature of the Trade Fair, which as pointed out by Mora "has been very well developed", with its Contact With… program, which puts the exhibitor wineries in contact with professional buyers who come in from fifty countries from around the world, the way in which the organization is setting up this edition, "all of this has allowed us to start up various businesses at a trade fair that we also consider to be comfortable for us, this from a point of view of logistics and in the sense of its approachability".
In fact this will be the fourth edition that we will be attending and "if things go as well as they have until now, we trust that FENAVIN will continue for many years and that we will be able to keep coming in", he concludes.
On their part, Vinyes D'Olivardots, a winery specialized in high-end wines, which has never participated at FENAVIN, following their visit to the latest edition of Alimentaria has decided to exclusively wager on FENAVIN this year. "We have heard wonderful things about the Trade Fair and about the important number of international buyers that are in looking to find new wines, which is the reason why this time we are firmly committing to the trade fair", points out Carme Foncuberta, the Wine maker of this young winery, which saw the light at the end of 2008.
This exporter nature is what has convinced Foncuberta that expansion of its market in Europe is attainable, in particular in Germany and Holland, "from where we know that many professionals will be coming in to FENAVIN".
Another winery that will be repeating is Joan Raventós Rosell, from Masquefa (Barcelona) represented by its Export Manager, Mariona Raventós, who has a good opinion of previous work carried out at a trade fair in which the contacts are always different from those that usually show up at other fairs such as Prowein, Iberwine, Vinexpo or Alimentaria, apart from the fact that every year Fenavin's organization tries to make sure that there is a certain amount of renovation among the trade working at the trade fair.
On her part, Marga Ginestra, who works for the Export Department at Gandesa de Vins, a Tarragona based winery that is also repeating at the Trade Fair, assures us that "we really like Fenavin's organization, as every time we have participated it has allowed us to start up very interesting opportunities". In her opinion FENAVIN can be distinguished from other national and international trade fairs that she visits, such as Alimentaria, Forum Gastronòmic or Prowein "in its Wine Gallery, which is a space that allows professionals to try out the wines without any pressure whatsoever, which means that those visiting the stands are actually interested in our product, which is something that makes business much easier".