The fifth edition of FENAVIN has sparked admiration among journalists, the trade and visitors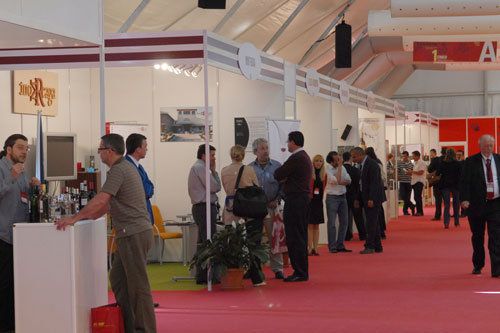 07.05.2009 |
The fifth edition of the National Trade Fair on Wine has closed its doors this afternoon with a feeling of satisfaction among the winemakers, journalists, lecturers and visitors.
As an example, in radio phonic chats, such as Radio Castilla-La Mancha's special edition of their 'A Pie de Campo', which took place at the trade fair and at which the journalist Jorge Jaramillo gathered together around the microphone the renowned guru of Spanish wine José Peñín; Ángel Villafranca, President of the Union of Cooperatives of Castilla-La Mancha and a winemaker from La Rioja, Ignacio Gómez, with the opinions that were heard about the trade fair in this encounter being unbeatable.
Peñín, for example, stated his surprise upon seeing how in such a short time this trade fair already stands at the level of the London International Wine Fair, which takes place next week. "I am convinced that some of the people who have come to this trade fair already have a good part of their business expectations more than covered, without of course in any way whatsoever considering the English trade fair inferior", he pointed out.
In that concerning the Rioja winemaker, he commented on the good course that his own contacts were taking and he highlighted that FENAVIN "is the best place to do foreign business. In fact -he recalled- on the first day of the trade fair, everybody who was coming in to see us were exporters from abroad".
On his part Villafranca said that expectations were high for the trade fair, despite being marked by the crisis, and that it has turned into a fantastic opportunity to do business, this after several months without closing any agreement whatsoever.
Other journalists, such as Manuel Olmedo, Director of La Cerca, regional media group, assured us that "he feels proud to be a Castellano-Manchego when he sees a trade fair that is executed as beautifully as this one".
The international communicators also praised the trade fair, as is the case with John Radford, collaborator of the Wine Magazine and Decanter, who considered this trade fair as a great opportunity for entrepreneurs. "This trade fair allows the smaller companies to put their products on display thanks to the reasonable prices it offers".
And even Carlos Falcó himself, Marquis of Griñon and very highly respected figure in the world of wine, commented the grandiosity of Fenavin with the organization's personnel.
For Patrick Rabion, Bordeaux born enologist in Jumilla, this "is a very interesting initiative, focused on international trade, on commercialization, which is precisely where Spanish wines have the greatest potential for growth".
Félix Solís Jr. on his part affirmed that "in Spain, FENAVIN is only comparable with the Intervin pavilions at Alimentaria in Barcelona, with which it alternates on a biannual basis".
Other outstanding opinions are those of the sommelier Custodio Zamarra, who has defined FENAVIN "as the most important trade fair in Spain, as it gathers together a tremendous number of wineries and vine growers", or the opinion of Juan Fernández Cuesta, Director of the supplement 'Divino' of the newspaper ABC, who considers that FENAVIN is "spectacular and impressive".