The country's wineries are very satisfied with FENAVIN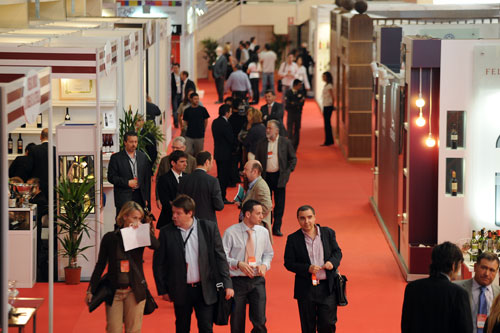 About twenty exhibitors that have been interviewed express their opinions on the main National Trade Fair on Wine in Europe
07.05.2009 |
High degree of satisfaction, spectacular event, more contacts and massive influx of professionals at FENAVIN 2009 with regards to past editions; these were some of the comments resulting from the survey made on the last day of the trade fair among the exhibitor wineries and cooperatives, impressions of which we have drafted below.
For El Progreso (La Mancha Denomination of Origin) FENAVIN 2009 has been more positive even than its past editions, because "there have been more professionals and we have made more international contacts, in particular with Germans, with the high acceptance of the fermented grape juice "Viña Xetar" drawing our attention, or the low-alcohol, 6º to 9º, wine that people were asking for, explains its President Cesareo Cabrera, who was very pleased with the organization.
José Miguel Marquez of Vinos Singulares de Pagos Andaluces, has visited the trade fair for the second time, assuring that they have made many contacts and that they have "quite a few expectations". He also proposed, as an improvement, the creation of a pavilion where all the small producers can set up their displays.
The Representative of Bodegas Arrayán (Méntrida Denomination of Origin) also classified this trade fair as a positive one, "that advances more and more every year", and she assured that they had made "interesting contacts", although she considered that "the representatives of the media should have also been at the stands trying out the wines", Ana Pérez said.
Several Catalan wineries decided to unite and come together to FENAVIN for the first time, specifically from the Priorat (Celler de L'Encastell), Terra Alta (La Bollidora), Empordá (Vinyes dels Aspres) and Penedés (Cava Castell D'Age), and they were notably satisfied because they had made contacts, although "they expected more", Ricardo Zamora said in representation of them all, who also added that the "the choice of dates for the Trade Fair has been a wise decision, although I consider that there should be more physical space and less marquees, although I have to admit that they are correctly temperature-controlled, and unlike Vinexpo the organization is very good".
Alicia Macaya of Bodegas Macaya (Navarra Denomination of Origin) explained that this is her second visit to FENAVIN and that the experience has been very good, "even better than the last time". She particularly highlighted the excellent organization of the trade fair.
This was the first visit to the trade fair for Bodegas Luis Alegre from the Basque Country, and in the opinion of Ana Fernández Bergoa, it is taking on the characteristics of the best Trade Fair in Spain. For her, the best thing is the possibility to establish good contacts, of an international nature, because "most of the good importers are coming in to this trade fair".
Ana García Sampedro of Bodegas Riojanas (La Rioja Denomination of Origin) is very pleased to have visited the trade fair for the first time, although she considers that the location of her stand was not the most propitious to do business.
Oscar Sánchez of Heretat de Cesilia (Alicante Denomination of Origin), who came in for the first time, has left with a very good impression of FENAVIN, which was free of crowds and with a smooth flow of public. In that pertaining to the contacts that have been made, he explained that despite having previously confirmed some meetings via the Internet, they had finally not shown up, although even so they are pleased with the commercial relationships that have been established.
Bodegas Viloria (Málaga Denomination of Origin) is an example of youth in the sector, as explained by its owner, Jesús Manuel Nieto, who is only 25 years old. This is his debut at the trade fair, organization of which he considers "spectacular', assuring that they are very interested in coming to the next edition, because they find that gathering together all these wineries in an event, as is the case in FENAVIN, is a very complicated matter.
In the case of Bodegas Vetas, pioneer in Ronda, this is their second time at the trade fair, although it is the first time that they have set-up a stand, which they shared with Málaga wines and, as assured by María Elena Rodríguez, the experience has been a positive one, although different than what it would be with their own stand.
Finally, Bodegas Rosalía de Castro from the Rias Baixas, made some contacts, but it was not their best edition, "as in 2007 everything went really well, much better, because on this occasion we invited purchasers in, committed through the IPEX, and then they did not even show up". There is no doubt that "Fenavin is very well organized", says the winery's Director for Exports Alicia Carro, while savoring their own brand, Paco & Lola, a very interesting Albariño, with a gorgeous corporate image.
In conclusion, the vast majority of wineries that were interviewed had obtained a positive result at the Trade Fair.