The round table "The Gold of Castilla-La Mancha. Its Wine" analyzed the products of the land and culture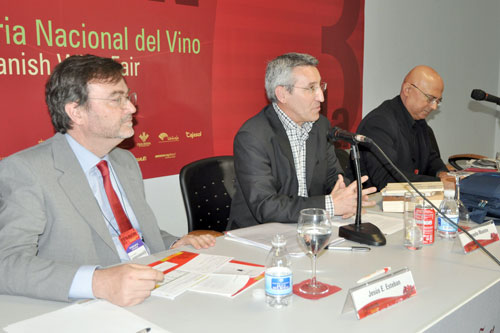 "It is indeed a great success that in only 5 editions FENAVIN has turned into Spain's most important trade fair, with a great presence in the world", the philosopher Agapito Maestre declared during his intervention
07.05.2009 |
The Castellano-Manchego Philosopher Agapito Maestre has been in charge of coordinating the round table "The Gold of Castilla-La Mancha. Its Wines", held within the frame of the National Trade Fair on Wine, FENAVIN-2009. The conference has counted with the presence of the Economist and Civil Engineer Jesús E. Esteban and the Historian, Essayist and Journalist Jesús Palacios.
Agapito Maestro started his intervention by highlighting the enormous satisfaction that the people of Ciudad Real must feel with a trade fair such as FENAVIN. "Although at the beginning I felt rather pessimistic about this fair, I have to recognize that it is a great success that in only 5 editions FENAVIN has turned into Spain's most important trade fair, with a great presence in the world".
This Writer, Essayist and Professor of Philosophy of Law, Ethics and Politics, has underlined the tremendous relationship that exists between culture and wine. Maestro, who had already participated in previous editions of FENAVIN, spoke about the importance of enhancing the culture of wine as opposed to the culture of "the Friars", the one that encourages consumption of beer. "La Mancha is spreading itself around the world and trade fairs such as FENAVIN are contributing to this", he asserted.
The Economist, Jesús E. Esteban, underlined the importance of this product in the country's economic wealth. "Wine is a key element in the economy of our country and it has been since the times of the Phoenicians, and it has also become a differentiating element in the landscape of certain areas such as Castilla-La Mancha", he affirmed.
For Jesús E. Esteban, in times of difficulty, such as the one we are now living, it is necessary for both winemakers and enologists to come together and work on offering a product of great quality at a reasonable price. Marketing and image campaigns were also present in his intervention, and this is because for this economist, producers must make campaigns that attract new consumers, in particular the younger generations, as to date they seem to be the most reluctant.
On his part, the Historian Jesús Palacios took the audience on a tour through literature, highlighting the great presence that wine has had in literature since ancient times. Miguel de Cervantes' masterpiece, "The Ingenious Hidalgo Don Quixote of La Mancha" was highly present at this conference in which the presence and importance of this product came under analysis. "I personally consider that it was Cervantes, who more than 400 years ago, masterly made the best definition of a sommelier", Jesús Palacios affirms.