Professors and students share basic tasting techniques thanks to the project 'Better with Wine'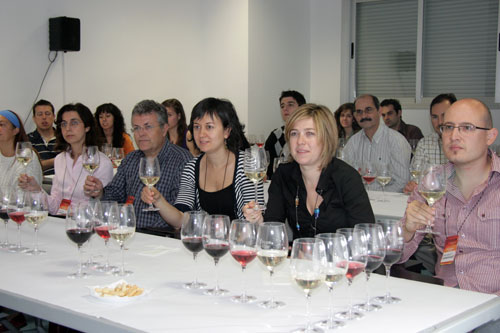 Professors and winemakers present their wines to the non-initiated
Five wines from two wineries from the province of Ciudad Real have been tasted during the activity
07.05.2009 |
The project 'Better with Wine', integrated by the Provincial Association of Hotel, Restaurant and Tourism Entrepreneurs and the Provincial Association of Wine-growing Industries of Ciudad Real, has organized the activity 'Initiation in Wine Tasting' upon the request of the Professors and Students of the Faculty of Chemistry and Food Technology of the UCLM, which has taken place at FENAVIN 2009.
The Professor of the UCLM, Miguel Ángel González Viñas, has been in charge of directing this tasting session for the non-initiated, insisting that it is fundamental to use the senses correctly and gradually develop them with practice. "The objective of this tasting session is to learn how to observe wine and appreciate its characteristics", explained González Viñas, while for Cristina Miranda, Manager of the Association of Hotel, Restaurant and Tourism Entrepreneurs, "the most important thing is to create a culture of wine among students and teaching staff".
The tasting session has started with the wine Macatela Airen, elaborated by the Hermanos Delgado, an organic single-variety wine, as are all the wines from this winery in Socuéllamos. The session has then continued with another white wine, a somewhat more difficult one because it is a blend of Macabeo and Sauvignon blanc varieties, from 'Casa de Romero' of Bodegas Arva Vitis in Manzanares. The third wine that was chosen and as an interlude between the whites and reds, has been a rosé wine, 'Macatela Rosado', organic the same as the first wine given that it is from the same winery.
The stars of the second part of the session have been red wines chosen from each one of the participating wineries. The first has been the 'Macatela Tempranillo', organic wine free of added sulfites, a clean, easy drinking single-variety wine from the Socuéllamos winery, which has been followed by the 'Arva Vitis Selección', a blend of Tempranillo, Cabernet and Merlot from the Manzanares Winery, somewhat more complicated given the coupage it presents, yet accessible to all sorts of publics.
Finally, the Representative of the project 'Better with Wine' has thanked the speaker, the participating wineries and those participating in the tasting session, declaring that these types of activities are possible thanks to FENAVIN, which he considers to be an important first-order structuring engine of the entire sector".