The Award Ceremony for the 2nd FENAVIN Showcase Dressing Contest has taken place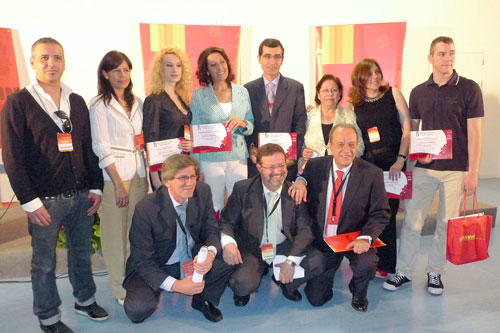 Carmen Sanz Zapatos has made off with the first prize, worth 5000 Euros
07.05.2009 |
The President of the Provincial Government of Ciudad Real, Nemesio de Lara; the Institutional Coordinator Ángel Amador and the Director of FENAVIN, Manuel Juliá have all handed over the awards of the 2nd FENAVIN Showcase Dressing Contest, with Carmen Sanz Zapatos's elegant and balanced showcase making off with the first prize, the same located at Calle Ruiz Morote in the capital.
Following the winner, who has earned 5000 Euros, we have Lumober, who was the overall winner in the past edition, and that on this occasion has obtained the second prize with a showcase that reproduces a Manchego-style patio and a small vineyard; along with the Corner store, which has proposed a minimalist composition of bottles and vine leaves. They have both earned 3500 and 2500 Euros respectively.
Three consolation prizes have also been presented, to the showcases Quesos El Valle, Pick Quick and Penhalta Hombre, each worth 1000 Euros.
The Provincial Government of Ciudad Real, in collaboration with the Chamber of Trade and the CEOE-CEPYME, organizes the Contest, in which a total of 23 showcases have participated.
The jury has been presided over by the Director of the Pedro Almodovar Superior School of Design, Vicente Ruiz, while the other members of the jury have been María Víctor, Coordinator of the Contest; María del Mar Vera, of the company Envés; Conchi Sánchez, Representative of Communication for FENAVIN, and Adela Cabañas, partner of the Design Company El Gremio.
The goal behind the contest has been to decorate and conveniently dress the showcases with wine growing elements, in free style and with reason of the celebration of FENAVIN
Thus the decorative theme has versed on wine and enology and the criteria for evaluation focused on scoring adaptation of the showcase to the proposed theme, apart from integration of the product itself within the subject matter, taking into account that the final objective is to sell; application of illumination to enhance the areas or emphasize some parts of the same; distribution of the masses and elements, as well as their integration within the showcase's space; treatment of color in the showcases and creativity.