The well-known enologist Ignacio de Miguel praises the exporter direction that FENAVIN has taken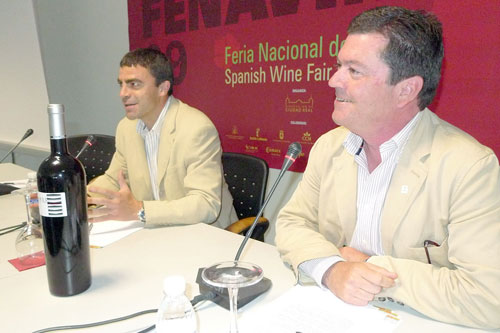 He has coordinated the round table "Casalobos, a Winning Team" in which 3 partners of the winery have participated, along with former football players of the stature of Rafa Martín Vázquez, Manuel Sanchís and Alfonso Pérez
07.05.2009 |
The reputed enologist Ignacio de Miguel has been in charge of moderating the round table at which Rafael Martín Vázquez, Manuel Sanchís and Alfonso Pérez, former football players and partners in this winery project have come together. The round table has been developed under the title of "Casalobos, a Winning Team", which has received an excellent reception from the audience. Those attending have enjoyed hearing about the experiences of these entrepreneurs, whose curiosity has been more than fulfilled in a session that has elapsed in a comfortable and friendly ambience within the trade fair, about which de Miguel has said that "it is marvelous to take a walk through its lanes and hear all those different languages", which in itself indicates that this trade fair is specially adapted to exporting.
Ignacio de Miguel, who is also a partner of the winery, has opened the turn of interventions by explaining all about the birth of this project of friends, who have been elaborating wine since the harvest of 2004 at their estate in Picón, which counts with 19 HA of vineyard, mainly planted with the Syrah and Cabernet sauvignon varieties, apart from some Petit verdot and Tempranillo, for a production of one hundred thousand bottles.
The beginnings of Casalobos represent the intention of several friends and lovers of football to set-up their own business, finally deciding to settle on a winery. For de Miguel, the fact that the winery was born free of any prior determining factors turned it into a "blank sheet of paper", to which each one of those involved added characteristics that were necessary or appealing for the project: type of estate, terrain, location, communications.
"Friendship, purely and exclusively"
Manuel Sanchís explains that his motivation to undertake this business was that he did not want to lose contact with his friends and colleagues after retiring from the world of sports, in the year 2001, which means that his corporate initiative was "friendship, purely and exclusively, and none of us have regretted it". Rafael Martín Vázquez indicated that he liked the project very much, but he particularly liked sharing it with his friends. On his part, Alfonso Pérez stressed that his liking of wine has actually gone from less to more thanks to this winery, beginnings of which he liked because it was a very serious project, created for the long haul.
All of them coincided in that being involved in the winery had changed their perception of wine and its world, because now they consider aspects that they had never taken into account before. Sanchís mentioned that "he loves being anonymous and seeing how somebody asks for their wine in a restaurant", while Martín Vázquez and Pérez underlined the learning process that came hand-in-hand with this adventure.
In that pertaining to the location of the winery in Castilla-La Mancha, a land that Miguel has confessed he "is in love with" and in which he has been exercising his profession for 20 years, all of them coincide that, although not belonging to denominations that are historically associated to quality wines could in principle be a drawback, currently it is well known that an exceptional wine can come from anywhere, stressed Rafael Martín Vázquez, son of Castellano-Manchego parents, who affirmed that it is in places like this where one finds fabulous "surprises".
Referring to the relationship of sports and wine, and insisting that their company is one of friends and not of a certain sector, they consider that they can contribute many things such as motivation or solidarity, with it being of great importance, in words of Pérez, "to listen to the experts". Sanchís joked as he assured that "we have been pioneers in this enterprise and everybody else is copying us", to then point out that "we have come to unite worlds that are different, to create a place where we can exchange values".
Specially addressing the 20 students of the University of Castilla-La Mancha who are taking a Masters in Foreign Trade, de Miguel explained that Casalobos marked itself the objective of selling half of its harvest in Spain and the rest on the international market, "although currently we are standing at 25-75", which is something he blames on the terrible decline in consumption. Thus the reason that, the winery's technical director informed, we have grouped together with another 4 wineries in order to promote exporting of their wines.