Salt cod and game in Manchego cuisine and, of course, a good wine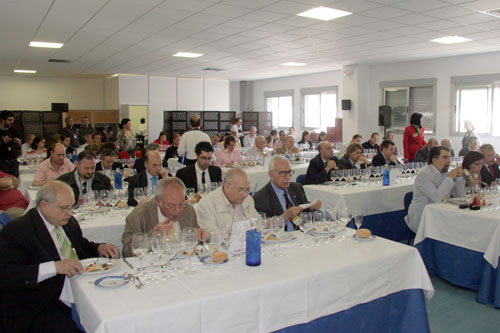 The tasting and food pairing session has been organized by the project 'Better with Wine', included within the activities held at FENAVIN
07.05.2009 |
The project 'Better with Wine', integrated by the Provincial Association of Restaurant and Tourism Entrepreneurs and the Provincial Association of Wine Industries of Ciudad Real, has celebrated a food pairing andtasting session at FENAVIN 2009 during which the stars have been the dishes of the Manchego cuisine prepared with salt cod and game along with a variety of wines from the province of Ciudad Real.
The tasting table has been made up by the enologist Celedonio Muñoz, Ramón Muñoz de Cuerva, of bodegas Naranjo in Carrión de Calatrava; Juan Huertas Muñoz, of the restaurant Huertas de Santa Cruz de Mudela; José Crespo García of the restaurant Casa Pepe de Carrión; Jesús Sánchez Patón of the restaurant Cuatro Caminos in Piedrabuena and the expert in gastronomy Joaquín Muñoz Coronel, who has commented that the objective of this tasting food pairing session was to learn how to taste a series of food products and how to accompany them with wines, with the final aim of it being understood that the concept of eating and drinking is important in order to "sell" tourism of our province and region. He has also thanked FENAVIN for the possibility of carrying out these types of activities, highlighting that the National Trade Fair on Wine constitutes an important first-order structuring engine of the entire sector.
The session has started with a dish of salt cod cannelloni with grilled spinach, raisins and pine nuts with tender spring garlic shoot mousseline, accompanied by a white Tempranillo of the winery Pago del Vicario in Ciudad Real. The panel has then continued with another dish of salt cod with creamy tripe stew and crunchy Cross bread crumbs, which this time has been accompanied by a Chardonnay 2007 of the winery Romero de Avila. The third dish, also of salt cod, but elaborated on a bed of porcini and truffle sauce, has let itself be enjoyed with a chosen wine, "Señorío de Guadianeja Syrah 2008" of Vinícola de Castilla.
The star of the second part of the tasting and foodpairing session has been game meat, choosing for this occasion a shoulder of wild hare with creamy Manchego cheese rice, in the good company of a "Señoría de Guadianeja Cabernet Sauvignon 2008" of Vinícola de Castilla. This dish has been followed by a venison loin brochette with stir-fried cereal grains accompanied by a "Casa de la Dehesa", a red wine from Bodegas Naranjo.
Finally, the panel tried out the dessert, which was "Torrijas de Jose" (Joseph's French Toast) paired with a glass of sparkling wine "Cantares" of Vinícola de Castilla.
All the dishes have been elaborated at the restaurant "Casa Pepe" in Carrión de Calatrava.