FENAVIN analyzes the latest changes in large retail distribution in Europe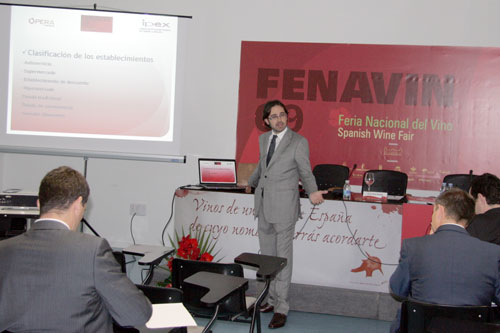 The Director of the company OPERA BD will be providing the keys that are necessary to access the main commercialization channels
07.05.2009 |
The Institute for Foreign Promotion of Castilla-La Mancha (IPEX), has organized the session "The Great Agri-Food Distribution in European Markets", within the frame of FENAVIN-2009, during which the Director and Manager of OPERA BD, foreign trade consulting company, Oscar Pérez-Borburjo Álvarez has analyzed the latest changes in wholesale distribution in Europe.
The speaker has listed in detail the establishments that currently exist: self-service, supermarkets, discount stores, hypermarkets, traditional stores, retail outlets and convenience stores, defining the latter as the "the store in which they are intensive in service, with the opening hours being a key factor and the fact that they have an array of products".
According to Pérez-Borburjo "in retail distribution hypermarkets, supermarkets and department stores are all included, in their different forms: private (100% private capital), associations and cooperatives". He also highlighted the characteristics of the large retail distributors, amongst which he pointed out the "important power of negotiation and, therefore, the request they make of their suppliers to invest in promotions; payment at an average of 66 days after acquisition and the requirement for specific quality standards in the production systems".
The Director of OPERA BD has explained the current strategy of large retail distribution, which "confronted with the imminent growth of the Hard Discounts, is now focusing on reducing prices, on a program of new openings of retail outlets, on a policy of consolidation of the current outlets and on the withdrawal of the external growth policy on acquisition of other international companies".
Global distribution is currently in the hands of a single commercial chain, WAL-MART, global leader with 8.6% of the global market share with sales exceeding 302 billion Euros. Holding the second place is a European company, CARREFOUR, with 114 billion Euros in sales and 3.2% of the market share in 2008.
The session has also focused on private label in Europe. In this sense, Oscar Pérez-Borbujo has pointed out that "private label products cover all merchandise sold under a retailer's brand". "This brand may be the retailer's own private label or a name that has been exclusively created for this retailer", he added.
In some cases a retailer may belong to a wholesaler group that is the owner of the brands, which are only available to the members of the group. The advantages for the consumer represent choice and the opportunity to regularly acquire food and non-food products of quality at more economical prices.
He also commented that "according to the latest statistics made by Nielsen, private label brands continue experimenting impressive growth throughout Europe".
In conclusion he focused his speech on the analysis of large retail distribution of the agri-food market in three objective countries: France, Germany and England.