The International Federation of Wine Journalists and Writers pays tribute to Manuel Juliá's work in favor of the sector and to his trajectory as a journalist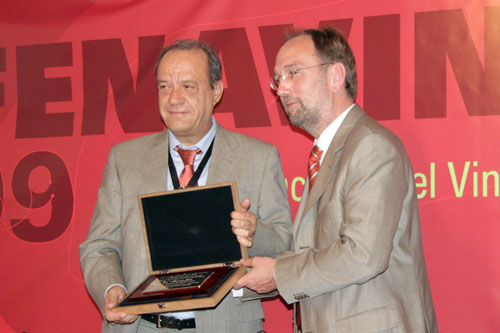 During his thank you speech he spoke about FENAVIN as "a dream come true" and he recalled the tough steps that have been taken to make the Trade Fair what it now is in this 2009 edition
06.05.2009 |
The International Federation of Wine Journalists and Writers -FIJEV- has paid tribute to Manuel Juliá for his work in favor of the wine sector and to his trajectory as a journalist, during an emotional act presented by the recognized enologist Isabel Mijares, who was accompanied by the journalist José Luis Murcia and the President of the FIJEV, Joel B. Payne, who was in charge of presenting Manuel with a commemorative plate.
Juliá, who was surrounded by forty journalists of the AEPEV -FIJEV's Spanish delegation- and by part of his family, thanked them for the recognition and took advantage of the moment to recall how the first steps of a trade fair that he considers "a dream come true" were taken, with the decision to materialize it being taken somewhere back in the year 2000 "with much work and professionalism and with a great team".
The premises that were the basis for the conception of FENAVIN initially followed a tactic that was practically military in concept, "because when one goes to battle several things must be done - he acknowledged -, but the most important is to know who the enemy is, his strengths and weaknesses, apart from studying one's own weaknesses in order to turn them into strengths".
In this sense Juliá decided to setout the future Trade Fair from the point of view of the demand, rather than the offer. "We are going to pamper the purchasers by providing them with an opportunity to resolve their business problems, creating the Business Searcher and Wine Gallery, where the purchaser will be free to choose without any interferences of any type", he pointed out as key factors to the good operation of the Trade Fair.
Finally, Juliá recognized that he has put "much hope, enthusiasm, faith and professionalism into FENAVIN, a trade fair that just gets bigger year after year, which is something that can only make me and the team I work with tremendously happy".