Grandes Pagos de España offers a splendid tasting session with wines from all its wineries at FENAVIN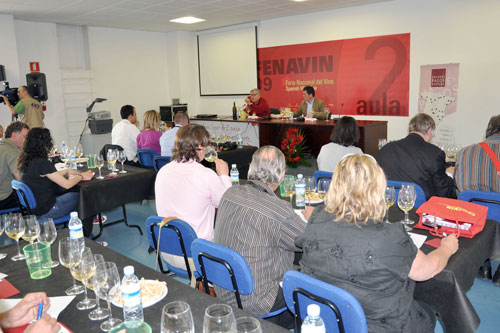 Víctor de la Serna and Ignacio de Miguel have been in charge of directing the session
06.05.2009 |
At the National Trade Fair on Wine, with the house filled to capacity and with numerous well-known international critics amongst the audience, the Association Grandes Pagos de España has offered a tasting session in which wines from each one of the twenty wineries that integrate the association have been included.
Víctor de la Serna, apart from being the soul of the winery Finca Sandoval, is also an excellent communicator who enjoys explaining the characteristics of grapes and wines to the audience. Ignacio de Miguel is the advising enologist for about twenty first-line wineries and the creator of various wines that have been tasted today.
Both have been in charge of directing this grand Vinos de Pago tasting session, a concept of wine quality, tradition of which in Spain was lost in the 19th Century with the arrival of the so-called industrial wineries. Vinos de Pago - elaborated with its own grapes, from a single vineyard - was reborn in our country towards the end of the past 20th Century, when Carlos Falcó, ideologist of the enterprise, founded the Association Grandes Pagos de Castilla, which in the year 2003 turned into the Association Grandes Pagos de España.
Currently this non-profit association groups about twenty wineries together, from all the regions of Spain and it continues to uphold the unique personality and exceptional quality that defines each and every one of its elaborations. The wines that have been tasted are:

1.- White Wines
'Fillaboa 2008' (Albariño, Fillaboa, D.O. Rías Baixas)
'La Calma 2006' (Chenin Blanc, Can Rafols dels Caus, D.O. Penedés)
'Villagarcía Viognier 2007' (Viognier, Pago de Vallegarcía, VT de Castilla)
2.- Wines from Central Spain
'Dehesa del Carrizal Syrah 2005' (Syrah, Dehesa del Carrizal, D.O. Dehesa del Carrizal)
'Nuestro Syrah 2006' (Syrah, Manuel Manzaneque, D.O. Finca Élez)
'Eméritus 2004' (Cabernet Sauvignon, Petit Verdot, Syrah; Pagos de Familia Marqués de Griñón, D.O. Dominio de Valdepusa)
'Calzadilla Syrah 2004' (Syrah, Uribes Madero, VT de Castilla)
3.- Wines from the Southeast
'Cuveé TNS 2006 Mágnum' (Touriga Nacional, Syrah; Finca Sandoval, D.O. Manchuela)
'Pie Franco 2005' (Monastrell, Casa Castillo, D.O. Jumilla)
'Finca Terrerazo 2006' (Bobal, Tempranillo, Cabernet Sauvignon; Bodega Mustiguillo, VT del Terrerazo)
'Enrique Mendoza Reserva Santa Rosa 2004' (Cabernet Sauvignon, Merlot, Syrah; Enrique Mendoza, D.O. Alicante)
4.-. Wines from Rioja and Navarra
'Finca Valpiedra Reserva 2005' (Tempranillo, Experimental, Graciano; Finca Valpiedra, D.O.Ca. Rioja)
'Lautus 2004' (Tempranillo, Merlot, Cabernet Sauvignon, Garnacha; Guelbenzu, VT de la Ribera del Queiles)
5.- Wines from Aragón and Cataluña
'Secastilla 2005' (Garnacha, Viñas del Vero, D.O. Somontano)
'Salanques 2006' (Garnacha, Cariñena, Syrah; Mas Doix, D.O.Ca. Priorat)
'Cérvoles 2006' (Tempranillo, Cabernet Sauvignon, Garnacha, Merlot; Cérvoles Celler, D.O. Costers del Segre)
6.- Wines from Duero and the Northeast
'Luna Beberide 2003' (Mencía, Cabernet Sauvignon, Merlot; Luna Beberide, VT de Castilla y León)
'Aalto 2006' (Tinto Fino, Aalto, D.O. Ribera del Duero)
'San Román 2005' (Tinta de Toro, Maurodos, D.O. Toro)
'Mauro 2006' (Tempranillo, Syrah; Mauro, VT de Castilla y León