John Radford, Patrick Rabion and Félix Solís see the tool of the future for commercialization of wines in the Internet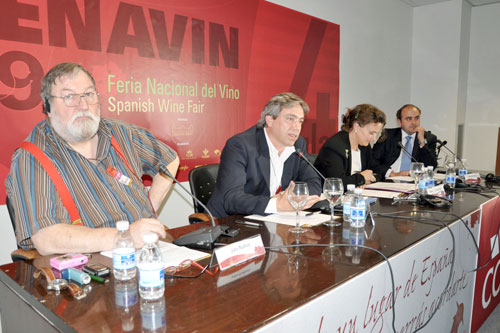 The three professionals of wine have participated in the round table "Strategic Marketing: trends in the next five years in the world of international wine" within the frame of the National Trade Fair on Wine (FENAVIN)
06.05.2009 |
"In the immediate future Internet will turn into a very valid channel for the commercialization of wines", the British journalist John Radford categorically declared, present at the round table "Strategic Marketing: trends in the next fives years in the world of international wine", accompanied by the Bordeaux born enologist in Jumilla, Patrick Rabion and the Director for Exporting and Marketing for Félix Solís Avantis, Félix Solís Ramos.
John Radford considers that the future of distribution is to be found in the web of webs, fundamentally due to two reasons, on the one hand because of the difficulty that many consumers encounter to find out about a product, an obstacle that is resolved on the Internet where possible buyers can find all the characteristics of a wine. And in the second place, Internet's success resides, in the opinion of Radford, in the elimination of the intermediaries, which on top of this reduces the final price of the product.
An option that Patrick Rabion and Felix Solís also contemplate, later emphasizing that after secure payment modalities and mutual trust in the process have been perfected "Internet is consolidating itself as an important way of selling wine, independently of the fact that currently everybody is working with electronic mail and that jurisprudence exists that gives legal value to these communications".
This British journalist made an analysis of the United Kingdom in which he affirmed that there is a trend to buy cheaper wines, thus they choose to buy them in supermarkets, which are the ones that will gain in profits. "Spanish wines are well represented in this commercial sector", he adds. However - he continues-, "the quality sector of wines has shown stability in the last few months, therefore, buyers of quality wines are still there".
On his part the enologist is of the opinion that "in Spain, apart from the traditional offer of denominations of origin such as Rioja, Ribera del Duero, etc., other newer regions in the production of quality wines will start to consolidate, in Castilla-La Mancha, Murcia, Galicia, Catalonia, Navarrea Extremadura, etc".
"On the one hand we will have a broad offer of economic, well elaborated wines and with a good presentation and then we will have an offer of high quality wines that express the terroir in which they are produced. Organic wines must benefit from the policies that are arising in favor of sustainable development, ecology, etc.", Patrick Rabion asserted.
With regards to the trends of the wine market, Félix Solís explained that "the plane along which the trends are going is increasingly more global and, in the case of Spanish wineries, since domestic consumption is dropping, the producers are looking much more to the export market, although we must involve the younger Spanish generations in the culture of wine and insure that they know that thousands of families live from this sector that elaborates a basic product of the Mediterranean diet and with proven virtues for the prevention of cardiovascular disease, with anti-ageing or anti-stress properties, as long as it is enjoyed in moderation, given that it is a social drink".
In this sense Félix Solís explained that "wines must always be adapted to the tastes of each specific market", although I consider that we shouldn't lose our own peculiarities as a traditional producer country, with a cultural trajectory and a thousand-year-old production, in like manner to Italy or France.
"If Spanish winemakers want to orientate their product to the international market they must take into account that young consumers are in their greater part great consumers of beer, reason why they demand fruitier wines with less body", asserted John Radford on his part.
FENAVIN, focused on international trade
The three speakers, who had already visited FENAVIN on several occasions, see this trade fair as an unbeatable opportunity for business and promotion of the new market trends. On his part, the journalist and collaborator of the Wine Magazine and Decanter, considers that this trade fair is a great opportunity for entrepreneurs. "This trade fair allows smaller companies to display their wines, but at a reasonable price".
According to Rabion it is "a very interesting initiative, focused on international trade. This is precisely where commercialization of Spanish wines has the greatest potential for growth".
Bodegas Félix Solís Avantis has wagered on this trade fair from its very beginning and as commented by its Director for Exporting "all you have to do is see that year after year the trade fair has had to extend the exhibitor pavilions and it is more than obvious that the trade fair grounds are just not big enough anymore".
According to Solís, currently in Spain FENAVIN can only be compared to INTERVIN's pavilions at Alimentaria in Barcelona, with which it alternates biannually. "We must congratulate the Provincial Government, its President Nemesio de Lara and its Director, Manuel Juliá on the international nature that this event has had from its very beginnings and on the promotion that has been made in some of the most important countries in the world where we are exporting. Activities such as the Wine Gallery, the Business Searcher and so many others, reinforce the professional character of FENAVIN, which is the monographic fair of the great wines in Spain", he concluded.